Remembering Selena; 17 years later
Selena was born in Lake Jackson, Tx. in 1971, her career reached its apotheosis at a 1995 concert at the Houston Livestock Show and Rodeo, which attracted over 65,000 fans to the Houston Astrodome.
During her rapid rise to fame, Selena maintained an admirable social conscious: While on tour in Houston, Selena donated time to civic organizations such as D.A.R.E. and planned a fund-raising concert to help AIDS patients.
It was 17 years ago today that Selena passed away. On March 31, 1995 in a Corpus Christi Days Inn, the Queen of Tejano fell victim to a violent murder by her former president of the Texas fan club and the Selena-brand boutique manager (her former fan club president had embezzled from Selena's successful franchise). Selena died sixteen days before her 24th birthday.
Since then, the fallen star has received a stream of tributes that attest to her talent and infectious personality. Two weeks after her death, on April 12, Texas Governor George W. Bush declared Selena's birthday, April 16, as Selena Day in Texas.
In 1997, a biopic film starring a little-known actress, Jennifer Lopez, met critical acclaim and catapulted JLo's own career.
Houston's Reliant Stadium hosted a memorial concert, Selena ¡VIVE! on April 7, 2005, a week after the 10th anniversary of her death. Once again, over 65,000 fans poured into a stadium to enjoy Selena's celebrated repertoire, performed by such high-profile artists as Gloria Estefan, Thalía and Paulina Rubio. The event was broadcast across the nation and became the most-viewed Spanish-language program in American television history.
Despite her untimely death, Selena's iconic melodies still incite joy for listeners.
*To commemorate the 17th anniversary "People en Espanol" dedicated their March issue by having Selena on the cover.
*Chris Perez shares his memories with Selena in his book "To Selena, With Love".
*A new and beautiful mural rises in honor of Selena by Christopher Montoya. The mural of Selena adorns the wall of a shopping center on South Flores Street in San Antonio Tx.
*Selena Fest 2012 will take place at Manuel Q. Salinas Park, 354 Airport Rd, Corpus Christi, Tx. from 4:00 P.M to 9:00 P.M
*Sabado Gigante will be rememebering Selena at 8PM/7c on Univision (Saturday).
*Pa'lante con Cristina, Exclusive Interview with Selena's family at 7PM/6c on Telemundo (Sunday).
*Sal y Pimienta on Univision 10pm/9pm central, will also be remembering Selena (Sunday).
*On Tuesday April 3, Selena's record label along with the collaboration of Samo from Camila, Cristian Castro, Don Omar, Juan Magan and Selena Gomez will release a new sound of Selena's famous music in the album "Enamorada De Ti".
*Also Tuesday, Primer Impacto speaks with the Quintanilla Family about the new cd release.
*Still, more surprises await in the coming year such as the Selena Visa Debit Card and more...
17 years later, Selena Quintanilla-Perez is more alive than ever with the help of her family; the Quintanilla's, Chris Perez, her record label and Us, her beloved and devoted fans.
Help spread the word in Remembering & Celebrating
Selena's life by using our twibbon on your Twitter & Facebook

Selena On TV
Selena remembered on Levantate 3-30-12: Check out the video link
Primer Impacto talks with Los Dinos Pete Astudillo & Joe Ojeda 3-30-12: Check out the video link
Sabado Gigante Remember's Selena 3-31-12, Becky Lee Meza 15 years later (Sings; No Me Queda Mas)
Check out the Video Link
Pa'lante con Cristina 4-1-12, Interview with Selena's family

Corpus Cristi Caller Times Remembers Selena Selena's Legacy Lives on 17 After Her Death (article)
Selena Fest 2012
Over 150 people attended Saturday's event in honor of Selena

My friend Esmeralda Lopez pays homage to Selena

Brian Micheal Performs "Si Una Vez" at The Sundance Saloon, Waukegan, Illinois.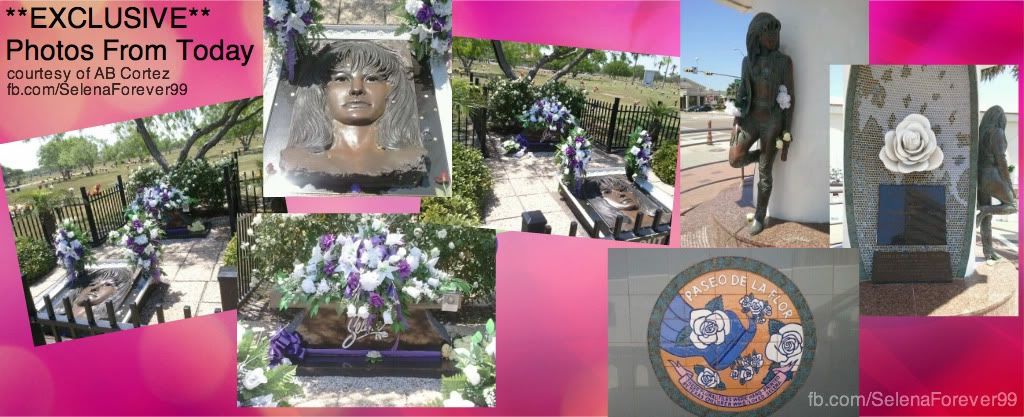 Keep checking back for more exclusives and additions to this page
Chris Perez
17 years ago today (at this time) I was in the same town, with the same person, when I was about to get the news. Thanks for being here for me dad.
8:21am March 31, 2012 via Facebook

Los Dinos
We love you, SELENA!! ♥
7:00am March 31, 2012 via Facebook

Brian Michael
Today we remember Selena, 17 years, and still alive and present in music, and in our hearts.
March 31, 2012 via Facebook

Latina Magazine
Remembering #Selena today? RIP
7:33am March 31, 2012 via Twitter

Perez Hilton
R.I.P. sweet #Selena! Gone but never forgotten! I will always remember you like this: http://perez.ly/H4o3lf Smiling, happy, doing your thing!
8:32am March 31, 2012 via Twitter

Ilyssa Saenz
17 years ago today the music industry lost a great star. Selena. Thankfully her music has lived on and she will forever be remembered for her talent, beauty, and great personality. She is truly missed by all. Selena Vive!!!
8:48am March 31, 2012 via Facebook

Karen Rodriguez
#RememberingSelena
1:28pm March 31, 2012 via Twitter

Chris Perez
Thanks for the "well wishes" guys. I reeeally appreciate it. Today (March 31st) will always be a difficult day for Selena's family but knowing that her fans still love and miss her as well, makes it just a little easier. Thank you for keeping Selena's memory alive.
1:58pm March 31, 2012 via Facebook

Suzette Quintanilla Arriaga
A big hug to all of you! What beautiful heartfelt words you leave about my sister. She was and always will be the BEST SISTER I could have. Thank u for taking the time to honor her memory .....BESOS!
7:19pm March 31, 2012 via Facebook
Please share your message in remembrance, comments and stories about Selena below.
LoveSelena.com
Helping to keep Selena's music, memory and legacy alive since 1995!
Experience The Fun & Stay Up To Date; Like and Follow us!