Intro:
Selena inspired me and she inspires the world. She provided her fans with everything they needed, from dance tunes to soulful ballads.
Through her own life and through her music, Selena showed those who were struggling - that persistence and hard work pay off,
and that you can be ambitious without leaving your family or cherished values behind.
Selena's fans felt like they knew her because she opened her heart to the world and let herself be known.
She was one of us, one of ours, and we felt like Selena was always going to be here. We watched her grow up and saw her star rise.
Selena represented the idea that it is possible to go places that most of us only dream about.
Selena, I'm still dreaming of you
Excerpt by Chris Perez from "To Selena, With Love"
It may be 6575 days or 18 years without Selena Quintanilla-Perez but she is more alive than ever
with the help of her family; the Quintanilla's, Chris Perez, her record label and Us, her beloved and devoted fans.
Festivities in Remembrance:
Furia Musical magazine honors Selena on their cover along with Jenni Rivera
-March 20, 2013 (Mexico Only-Not sold in US)

Tucson Citizen article "El Moises Paints Selena" Read it HERE
-March 22, 2013

Selena Special on BandaMax/ContraBandeando Selena & Jenni Rivera special
-March 28 (Thursday), 5:30pm check local listings, Mex: megacable canal 30 bandamax

Selena Special on BandaMax/Furia Musical for more info check out: LaChicuela.com
-March 28 (Thursday), 7pm check local listings, Mex: megacable canal 30 bandamax

Place this image as profile/twitter default pic or share in memory of Selena
-March 29-April 16 Link to image

Techno Cumbia! Selena Tribute Party presented by KILLED BY SYNTH Check out the event page HERE
-March 29 (Friday), at TEMPO NIGHTCLUB - 5520 Santa Monica Blvd. in Hollywood

Radio tribute to the Immortal Queen Selena on program "Raza Tejana" from Mx radio station La Invasora 99.7fm
-March 30 (Saturday), 10am-12pm, repeat Sunday 12-2pm. - more info: LaInvasora997.com - listen Live: TuneIn

Ke Buena Tuxtla 100.1FM Radio Station pays tribute to Selena
-March 30, 4-7pm pst

"Gone But Not Forgotten" talent showcase
-March 30, 2013 5 p.m. - Cole Park, Information: 361-461-5062

People En Espanol remembers Selena 18 Years Later
-March 30, check out their page in memory HERE

Thalia pays homage to Selena and sings "Amor Prohibido" in Houston Tx.
-March 30, 2013 YouTube video link HERE

NBC Latino Remembers Selena Read the article HERE
-March 31, 2013

The Boston Globe Remembers Selena Read the article HERE
-March 31, 2013

Tweet!! Use hashtags in memory of Selena: #Selena #SelenaVive #Selena6575 #Selena18 #SelenaQuintanilla #SQP #BidiBidiBomBom #SelenaForever
-March 31, All Day Long!

Request "Bidi Bidi Bom Bom" on Radio, Join the event HERE
-March 31, 2013 1pm (your local time)

Fan Gathering at Selena Statue located at the corner of Peoples Street T-Head and Shoreline Boulevard CC,Tx.
-March 31, 2013 with moment of Silence at 1:05 PM

Univision Remembers Selena with a photo slideshow HERE
-March 31, 2013

Latina Magazine Remembers Selena with Selena's top 5 performances of all time HERE
-March 31, 2013

La Chicuela Remembers Selena on her personal webpage HERE
-March 31, 2013

TVnotas Magazine Remembers Selena with 5 music videos HERE
-March 31, 2013

Selena Quintanilla Annual Tribute, 1354 Airport Rd (Salinas Park) Corpus Christi, Tx
-March 31, 2013 2 P.M. - 10 P.M.

Vibe Magazine remembers Selena with a photo via instagram
-March 31, 2013

La Ranchera Moterrey Mx. interviews Mr. Quintanilla & AB on Soundcloud listen HERE
-March 2013

NBC Latino Article "Selena's hometown in Texas honors her like only they could" Read HERE
-April 1, 2013

Broadway Sings Selena To reserve tickets email broadwaysingsselena@gmail.com - For more info: TheUndergroundNYC
-April 1. 7pm located at The Underground, 955 West End Avenue. NY.

KIII TV Remembers Selena Video and article: HERE
-April 1, 2013

Primer Impacto Remembers Selena they are at the Festivities in Corpus Saturday March 30, 2013
-April 1, 2013 watch video HERE

Photo Galleries: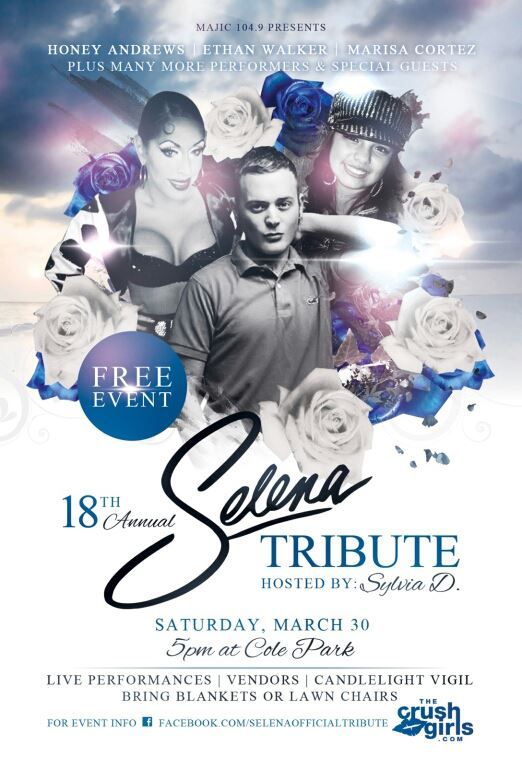 Messages to/about Selena from Loved ones & Celebrities:
Chicano Channel Magazine
Not only was a great Chicano leader born on this day but we also lost one of the greatest role models
this day 18 yrs ago; Selena!
March 31, 2013

Stefani Montiel
The years go by, but the memories and the music are still as strong and as heartfelt today!!!
Fotos y recuerdos...
March 31, 2013 10:30pm pst

Suzette Quintanilla
Would like to thank you all for posting such beautiful things about Sel.
Trying to keep my day as normal as I can. Not gonna lie its a countdown in my head year after year to the hour and exact time they pronounced her gone....
I'm grateful for my time with my sister and even more so knowing she still lives within us all and It's not a little, it's ALOT!!!! THAT'S what's freakin' AWESOME!!!
To all: KEEP CALM AND BIDI BIDI BOM BOM!!! :)
March 31, 2013 2:43pm pst

Latina magazine
Today marks 18 years since Selena Quintanilla's death. She remains one of the greatest Latino singers of all time...
March 31, 2013 2:30pm pst

Maurice Rinaldi
Lest we Forget SELENA.
YOU WILL ALWAYS BE A STAR IN THE SKY.
March 31, 2013 12:55am pst

Rock N Roll James
Happy Easter everyone R.I.P. Selena. 3/31
March 30, 2013 11:30pm pst

Karen Rodriguez
American Idol 12 Contestant
Been singing Selena for the past 3 hours. Love you Sel.
March 30, 2013

Brian Michael
Selena, 18 years without you, and you're still alive in all our hearts, and minds. May you continue to sing with the angels.
Thank you for all you did and have continued to do through your legacy and memory.
March 30, 2013 11:30pm pst

Please share your message in remembrance, comments and stories about Selena below.



LoveSelena.com
Helping to keep Selena's music, memory and legacy alive since 1995!
Experience The Fun & Stay Up To Date; Like and Follow us!