Tributes Listed by Dates:
February 28
"Burlesque Prohibido" Big's Fullerton Show 10pm 323 N. State College, Fullerton Ca.
March 23
ICE Lounge 7pm 5545 NW Loop 410 Ste 116 San Antonio, Texas 78238
March 29
"Homenaje a su memoria" PURO TEJANO RADIO from Monterrey, MX
Saturday March 29 - 9am-2pm (Mexico time)
hear it live: http://www.purotejanoradio.mx
Country Burger 4-7 pm. 401 S Hampton Rd, Dallas, TX (214) 330-4743
"Tributo a las Reinas" at El Cuco Restaurant 9pm/$10, 234 N. Pacific Ave. San Pedro, Ca. 90731
March 30
"Anything For Selena" @ La Casa Azul Bookstore 3-6pm 143 E. 103rd Street New York, New York 10029
tickets presale ONLY: tinyurl.com/SelenaCABpresale
"Selena Tribute" 4-8pm Cole Park Amphitheatre 1526 Ocean Dr. Corpus Christi Tx.
"Selena Su Ultimo Adios" 9:30pm pst on MundoFox TV network, check your local listings!
March 31
#SelenaFanGathering @ Plaza De La Raza arrival 12:30pm 3540 N. Mission Rd. Los Angeles, Ca. 90031
Join our event page: https://www.facebook.com/events/520722821380011/
"Moment of Silence" Selena Statue 1pm 500 N. Shoreline Blvd. Corpus Christi, TX 78401
"Selena In Molina" 5-9pm 1150 Bloomington St Corpus Christi, TX 78416
"Selena Vive" @ Margarita Mary's Show: 1030pm 330 Pine Ave Long Beach, California 90802
Have your very own tribute to Selena, wherever you live!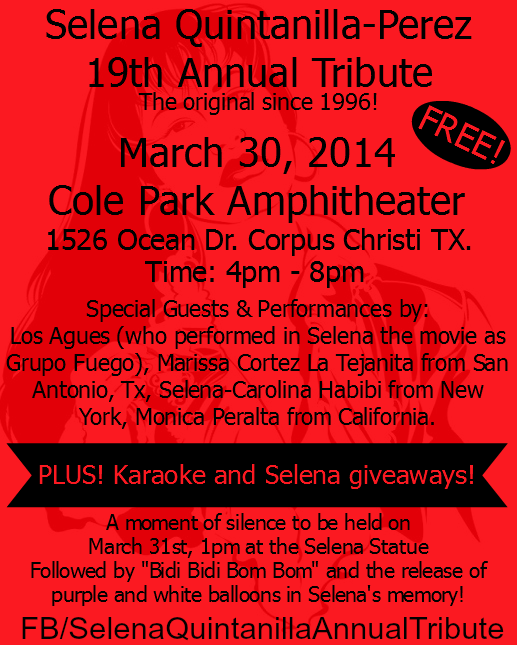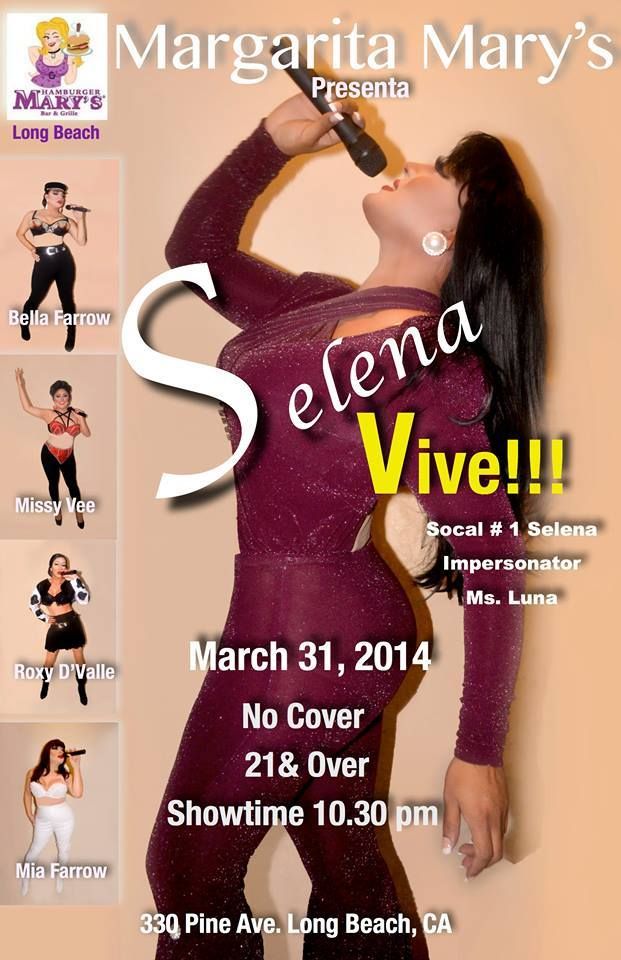 More Coming in March 2014!
LoveSelena.com
Helping to keep Selena's music, memory and legacy alive since 1995!
Experience The Fun & Stay Up To Date; Like and Follow us!