Selena featured in American Sabor
Latinos in U.S. Popular Music
| | |
| --- | --- |
| Explore the history of Latinos in popular music in the United States from the 1940s to the present in this traveling exhibition celebrating the individual creativity of stars such as Tito Puente, Ritchie Valens, Celia Cruz, Carlos Santana and of course our beloved Selena. | |
Overview
The exhibition focuses on five major centers of Latino popular music production in the years after World War II
New York City, Los Angeles, Miami, San Antonio, and San Francisco—which represent the remarkable diversity of this music.
Each city section explores the broader histories and cultures that created the music emerging from those areas.

The exhibit includes 7 free standing units with graphics, photographs and text. Two short films, various music stations,
and a fully operational juke box so that visitors can dance to their favorite rhythms.

Created by EMP Museum, the University of Washington, and the Smithsonian Institution Traveling Exhibition Service,
"American Sabor," its national tour and its related programs are made possible by Ford Motor Company Fund.

Tour Itinerary
04/20/2013-07/14/2013 New York Public Library for Performing Arts, New York, NY
08/03/2013-10/27/2013 American Jazz Museum, Kansas City, MO
11/16/2013-02/09/2014 California State University, Los Angeles, CA
04/12/2014-07/06/2014 Museo de Las Americas, San Juan, Puerto Rico
08/02/2014-10/26/2014 History Miami, Miami, FL
11/15/2014-02/08/2015 Atlanta History Center, Atlanta, GA

San Antonio Section
The section of San Antonio is dedicated to rural musical styles, such as the ballad and country-western.
And is where Selena is mentioned the most - check some photos below.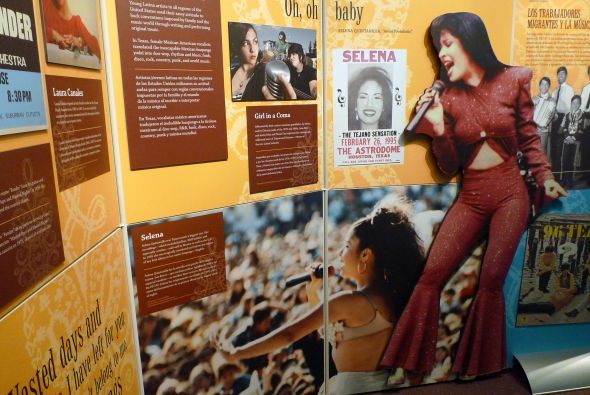 Our Personal Photos on Location CSULA
Fan Photos - CSULA
Share your photos: LoveSelenaOfficial@hotmail.com

check the interactive website and for more details: http://americansabor.org

LoveSelena.com
Helping to keep Selena's music, memory and legacy alive since 1995!
Experience The Fun & Stay Up To Date; Like and Follow us!





added 5-30-13