*In preparing for pre-order at maccosmetics.com, You will be placed in line to shop limited quantities of #MACSelena.
In order to keep your place in line, please do not refresh their page, close their window or hit the back button.
Due to the overwhelming love from all of Selena's fans, items are expected to be sold out of pre-order.
But make sure to check back April 21 at maccosmetics.com for the official online launch of MAC Selena La Reina!
Celebrate 25 years of Selena's enduring legacy with the complete limited-edition, rose-embossed collection honouring the Queen of Tejano Music's life! Embrace the statement colour Selena loved with a compilation of 12 lip products, along with a palette featuring eight shades for eyes and an Extra Dimension Skinfinish highlighter for face - all in exclusive black-and-holographic silver packaging. Plus, get the ultimate collector's item: the Selena La Reina Makeup Bag with an iridescent rhinestone design inspired by Selena's legendary blinged-out bustier. Comes bundled together in a holographic silver pouch and a purple Selena La Reina box. Exclusively online. $300 ($348 value).
February 25, 2020
MAC Selena La Reina
The best-selling Selena collection finally has a sequel.
Get ready for an all NEW limited-edition line-up collection celebrating 25 years launching in April to celebrate the Queen of Tejano's life and legacy.
The collection will have a new look, new packaging which includes the best seller lipglass in Bidi Bidi Bom Bom is back for an encore and with the new rose-embellished Extra Dimension Skinfinish

---
2016 Mac Selena Release Timeline
Devoted & Obsessed MAC select members pre-sale: September 28, 2016
World Premiere Launch Party in Corpus Christi: September 30, 2016
Available online for everyone: October 1, 2016
#MACSelena at MAC locations everywhere: October 6, 2016
Re-launch
Online: December 28, 2016 - update; Products sold out within 24 hours!
MAC Locations: December 29, 2016

12/19/2016
Due to the overwhelming passion and excitement from Selena's fans, MAC Selena will be available again in the United States and Canada on maccosmetics.com on Wednesday, December 28, 2016 and in stores in the United States and Canada on Thursday, December 29, 2016. All products from the collection, including Bidi Bidi Bom Bom, will be available for purchase in stores and online, with the exception of Liquid Eye Liner in Boot Black. We heard your feedback and created a smoother online shopping experience.
---
10/14/16
The power of Selena's fans is astounding. Your overwhelming passion and excitement inspired the creation of MAC Selena and is the reason for its sell-out success. This is one of the most sought after collections in MAC's history.
We recognize the great lengths people went to buy MAC Selena and we are sorry for those who walked away empty handed. We are happy to share that we are properly restocking the collection for MAC stores, all retail partner stores, maccosmetics.com and our retail partner websites in the US and Canada. The collection will be available again for purchase in early January. We are committed to giving you sufficient notice of specific availability in order to plan for purchase. If you would like receive email when MAC Selena is back, please sign up on our waitlist here.
Thank you for your continued passion and your patience.
or text SELENA to 898622
to get #MACSelena updates from MAC cosmetics
---
10/6/2016
MAC Selena Sold Out In Stores Within Hours At Every Location!
Over two hundred people line up outside of Macy's department store to purchase the new MAC Selena make-up line on Thursday, October 6, 2016 in San Bernardino, Ca.
"I got here around 3:50 this morning," she said with a smile, bundled up in a thick sweater. "It's worth it because it's her. It's Selena." - Kristie Macias
Read more: http://www.sbsun.com/lifestyle/20161006/hundreds-line-up-early-for-macs-selena-makeup-line-in-inland-empire
---
10/1/2016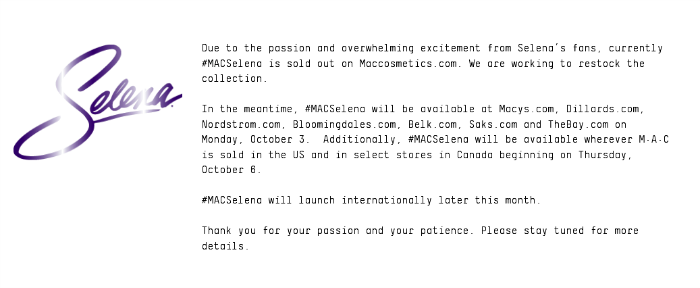 Macys.com Dillards.com Nordstrom.com Bloomingdales.com Belk.com TheBay.com
2pm pst - SOLD OUT ONLINE
Posted by MAC:
"Thank you so much for helping MAC and the Quintanilla family honor Selena! Now get ready to continue the tribute in MAC and partner stores on 10/6."
Find A Store
11am pst - WEBSITE CRASHES
Posted by MAC:
"We're doing everything we can to remedy the technical issues we're having with our site. We apologize & appreciate your patience."
---
MAC SELENA - IT'S HERE!
Date: Friday September 30, 2016
Time: 10:00 AM
The MAC Selena World Premiere takes place in Corpus Christi, Texas on Friday, September 30, 2016 in partnership with Dillard's. All guests are welcome and there is no charge for entry. Once in line, you will be given a wristband of a designated color that identifies your order in line.
The World Premiere will be divided into two sections. The MAC Selena product experience will provide exclusive access prior to the launch. All products will be available while supplies last, and exclusive merchandise and bags will be offered at the event. The following forms of payment are accepted: cash (USD), Visa, MasterCard, American Express, Discover and debit cards. Access to the MAC Selena product experience is via the Entrance Lobby to the American Bank Center Convention Center on N. Shoreline Blvd. Merchandise is also available at kiosks in the Arena.
The World Premiere will also feature entertainment in the American Bank Center Arena (enter via Arena doors on N. Shoreline Blvd). With interactive social media screens, live DJs and a special presentation by the Quintanilla Family and a guest performer, the arena will be active throughout the day, building up to the main performance at 8pm. Product kiosks are on Levels 1 and 2, however please note no makeup demonstrations are available within the Arena.
DJ's will include Valissa, Lola Langusta, Val Fleury and Posso with a Guest performance featuring Prince Royce!
ENTRY
Doors open to entry at 10am to both the MAC Selena shopping experience and the Arena entertainment area. There is no charge for entry. Guests will be admitted via a single line for each set of doors on a first-come, first-served basis.
Guests may not congregate in the MAC Selena shopping experience area. This area will be on a flow, with guests permitted to remain during their interactive experience with a MAC Artist. Once makeup demonstrations and purchases are complete, you will be asked to depart from the MAC Selena shopping experience.
Guests will be admitted to the entertainment Arena via the Arena doors and from the shopping experience until the entertainment Arena reaches capacity. Once the Arena reaches capacity, doors will be closed to entry.
Any guests exiting the arena may not automatically re-enter. If other guests are waiting to enter, they will be admitted and the exiting guest must return to the line.
There are specific bag policies and other prohibited items to be aware of. These items will not be permitted into the venue via any entry point.
Don't forget your phone, though! There will be fantastic social opportunities you won't want to miss... #MACSelena.
Thank you so much and we look forward to welcoming you at the World Premiere of MAC Selena in Corpus Christi!
---
August 4, 2016
#MACSELENA World Premier Launch Party
The MAC Selena World Premiere takes place in Corpus Christi, Texas on Friday, September 30, 2016.
All guests are welcome and there is no charge for entry.
Join the Event Page for more info!
---
July 22, 2016
The MAC Selena collection will be available to pre-shop for Devoted and Obsessed MAC Select members.
Shop the collection right before the official launch!
Drive to MAC Select's home page: https://www.maccosmetics.com/account/select.tmpl
---
May 12, 2016
Pictured here (clockwise from top): Eye Shadow in Selena, Lipstick in Como La Flor, Lipstick in Amor Prohibido, Lipstick in Dreaming of You, and Techno Cumbia Blush Duo in Ven Conmigo and Blunt.
---
April 12, 2016
A preview of "Como La Flor" lipstick, one of the products from the upcoming #MACSelena collection! Selena's vivacious music and style lives on through the passion of her fans and her impact on Latin beauty and culture. #MACSelena is a makeup collaboration inspired by the devotion of all those who continue to be touched by the young legend, tenderly curated with Selena's own sister, Suzette Quintanilla. "I wanted the colours to be about her personally, what she wore on and offstage," says Suzette. "She has been gone for 21 years already, and for this collaboration to happen, it's pretty much incredible. It just shows the love her fan base has even though she's gone; that her music still lives on and her legacy has grown tremendously since she's passed. It's a great honor to have MAC collaborate with Selena's name and her fans - FOR her fans." Available October 2016!
---
July 16, 2015
Like the legend herself, Selena Quintanilla's fans are an inspiration to us all for their love and enthusiasm.
It's happening! We are excited to announce the MAC Selena Quintanilla collection, available in 2016.
The collection will be a multi-product limited-edition colour collection due out in the 2nd half of 2016
#MACSelena