MAC at Main Place Mall celebrates Selena and the launch of #MACSelena beginning Oct. 6th - Oct. 9th.
You're invited to join MAC at Main Place for the Selena Experience all weekend long with DJ's and music, photo opportunities and your chance to shop the Selena line of MAC makeup!
Roger Gomez of LoveSelena.com will be present (Oct. 6) with special gifts for fans who follow LoveSelena.com on FB and IG. He will also be doing live videos, interviews and taking photos of fans!
Be sure to say hello and follow!
IG@Rzemog79
IG@LoveSelenaOfficial
FB/LoveSelenaOfficial
The Selena Experience will take place on the first floor in front of the MAC store and Macy's
FREE for everyone!
Get your make-up done by a MAC cosmetics MUA! Call for a seat appointment:
714-648-0556
-Reserving a seat does not apply to shop the Selena collection.
To shop the Selena collection:
There will be ONE line and one line only starting outside the entrance between JC Penney and Yogurtland, located in the back by the parking structure.
The first 200 guests in line will receive colored wristbands (distributed in order of arrival).
There will be 14 colors of wristbands.
Beginning at store opening at 10am, groups will be let into the store at a time.
Each group will have 15 minutes to shop the collection and make their purchases.
After the 15 minutes passes, the next color of wristbands is let in.
This continues until all 14 groups have shopped.
Once the 14 groups have gone through the store, the remaining guests in line will be let in, separated in small groups based on the store's fire capacity, to shop whatever remains of the collection.
MAC Main Place
2800 North Main Street
Space # 236, First Floor
Santa Ana, CA 92705
(714) 648-0556
Follow Mac Main Place on Instagram!
Hours:
Thursday-Sunday: 11am-6pm
Directions to Main Place Mall
Cant make it to MAC Main Place in Santa Ana, CA.?
Call your local MAC location and ask if they're having a Selena event!
Nordstrom's at Main Place Mall will also have the Selena Collection.
Nordstrom's MAC counter is located in the first floor.
714-972-2020
11am-7pm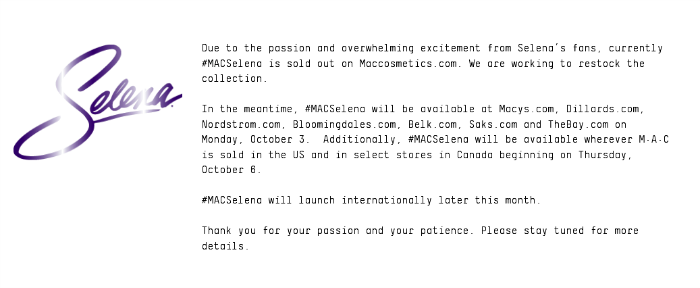 Macys.com Dillards.com Nordstrom.com Bloomingdales.com Belk.com TheBay.com
"Thank you so much for helping MAC and the Quintanilla family honor Selena!
Now get ready to continue the tribute in MAC and partner stores on 10/6." - MAC Cosmetics
Find A Store
#MACSelena
#MACMainPlace
#MACLoveSelena