Selena Quintanilla was honored with a posthumous star on the Hollywood Walk of Fame on Friday, November 3, in a rare evening event. The ceremony of the famed Tejano singer, who passed over 22 years ago, brought a record-breaking crowd of over 4,500 fans to the star unveiling. The star was placed in front of the iconic Capitol Records building, which also happens to be the home of her record label EMI Latin at 1750 North Vine Street.

Among the guests were, Edward James Olmos, who played her father in the biographical film "Selena," as well as Gregory Nava the director of the film. Selena's husband and lead guitarist of her band Chris Perez was also in attendance, along with Los Dinos: AB Quintanilla, Ricky Vela, Joe Ojeda and Pete Astudillo. Celebrities were also present including actress Angelica Vale with her mother and actress Angelica Maria along with her Husband and sponsor to Selena's star; Otto Padron. Also in attendance were Adrienne Bailon with husband Israel Houghton. Speakers at the ceremony included: Los Angeles Mayor Eric Garcetti and actress Eva Longoria, a native of Corpus Christi, Texas, which also happens to be Selena's Hometown. Suzette Quintanilla, the singer's sister accepted the star on behalf of the family who was also in attendance.

Along with Selena receiving her Star on the Hollywood Walk Of Fame;
November 3rd was declared as the Official Selena Day in Los Angeles.
Selena was also presented with two plaques:
7x Diamond Records for the album: Amor Prohibido, Entre A Mi Mundo, Dreaming Of You,
Ven Conmigo, Greatest Hits, Lo Mejor De... and Selena Ones.
75x Platinum Career Singles.

*Diamond Awards are honoring those artists whose sales of singles or albums reached 10 million copies.
*Platinum Awards are honoring the sale of 1 million units, album or singles.

Since the dedication ceremony, fans have continuously left candles and flowers on her star daily. The Latina singer was truly loved and now her fans will have a place to gather to honor her.

Suzette Quintanilla ended the ceremony with Selena's own words, "the goal isn't to live forever, but to create something that will." Selena will live forever in the minds of her fans and among the stars on the Hollywood Walk Of Fame.

In case you missed the event, here's the livestream:
---
Cleaning Selena's Star
As a Selena fan, It's a pleasure and honor to clean Selena's star!
Roger Gomez for LoveSelena.com
---
How to Clean Selena's Star
Simple Green and Brasso for brass. Always make sure to dry it so that it does not cause anyone to slip.
- Ana Martinez, Hollywood Walk Of Fame Committee.
---
Walk of Fame Ceremony for Selena Quintanilla Draws Record Crowd
11/4/2017
Over 4,500 fans gathered on Vine Street in Hollywood on Friday (Nov. 3) to pay tribute to the late Tejano music queen Selena Quintanilla, who was honored with the 2,622nd star on the Hollywood Walk of Fame. According to a Hollywood Chamber of Commerce spokeswoman, Selena's crowd was the largest-ever for a Walk of Fame ceremony, breaking a 1998 record set held by onlookers at the unveiling of the star for Mexican singer Vicente Fernandez.
Variety Article
---
Selena Quintanilla's Mother, Brother and Husband Chris Perez Reflect on Singer's Lasting Legacy
11/4/2017
"I just want to thank the fans for loving her so much. We miss her. I'm very proud of her." - Marcella Quintanilla
"I never thought I'd be sitting behind the Capitol Records building, but we're back here and doing something wonderful, which is laying down the star." - AB Quintanilla
"I loved that the crew that was working on the star told me that we're making it with extra love. That was so sweet to hear." - Suzette Quintanilla
"I'm proud of everything that she's been able to accomplish. Thanks to the fans for all the support that they've given, it really truly is all because of them. They keep her alive. I wish she could have been here to talk to the crowd, she had such a way with her fans that it would have made it so much better." - Chris Perez
---

Via NBC News Facebook page Read More
---
Fans sing along at the unveiling of the star of late singer Selena Quintanilla-Perez on the Hollywood Walk of Fame in Los Angeles
---
Photos released by Walk Of Fame
A record-breaking crowd attended the special nighttime #star ceremony for the late #Selena and you can watch it again on #walkoffame.com.

Posted by Hollywood Walk of Fame on Monday, November 6, 2017
---
To Selena, With Love
Roses left by Chris Perez on Selena's Hollywood Walk Of Fame Star during the ceremony.
The story on how I got this photo: This photo (and 5 others) were taken on my phone by a photographer. I was able to get his attention and asked him to take a photo of the star from above and to make sure no shadows of people were on the star. Once I got my phone back from him, fans around me asked to airdrop it. So, I cropped it into a square and sent it out. I should've watermarked it too because now it's everywhere. Suzette and Latina Magazine have reposted it among many other fans.
---
Record Crowd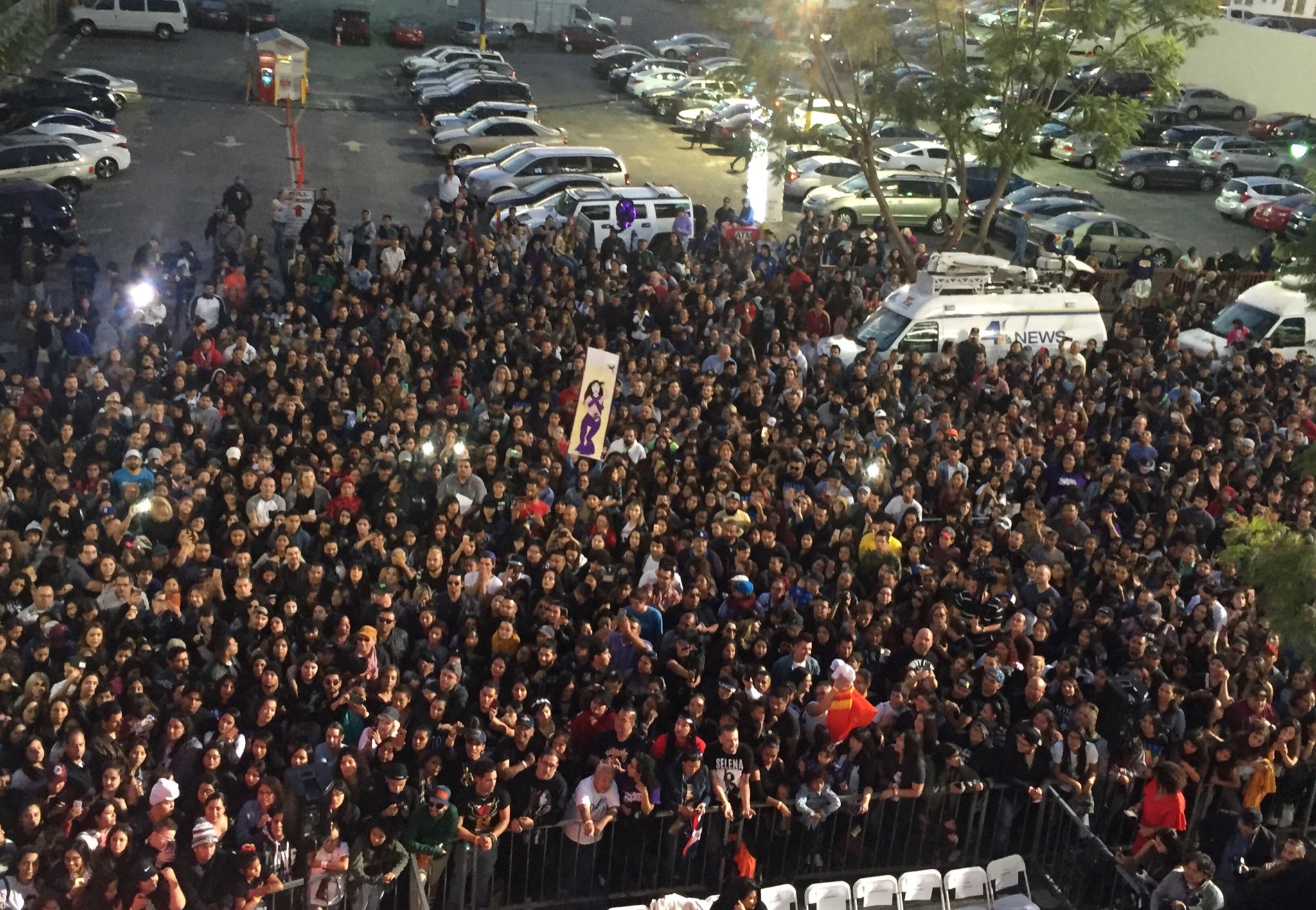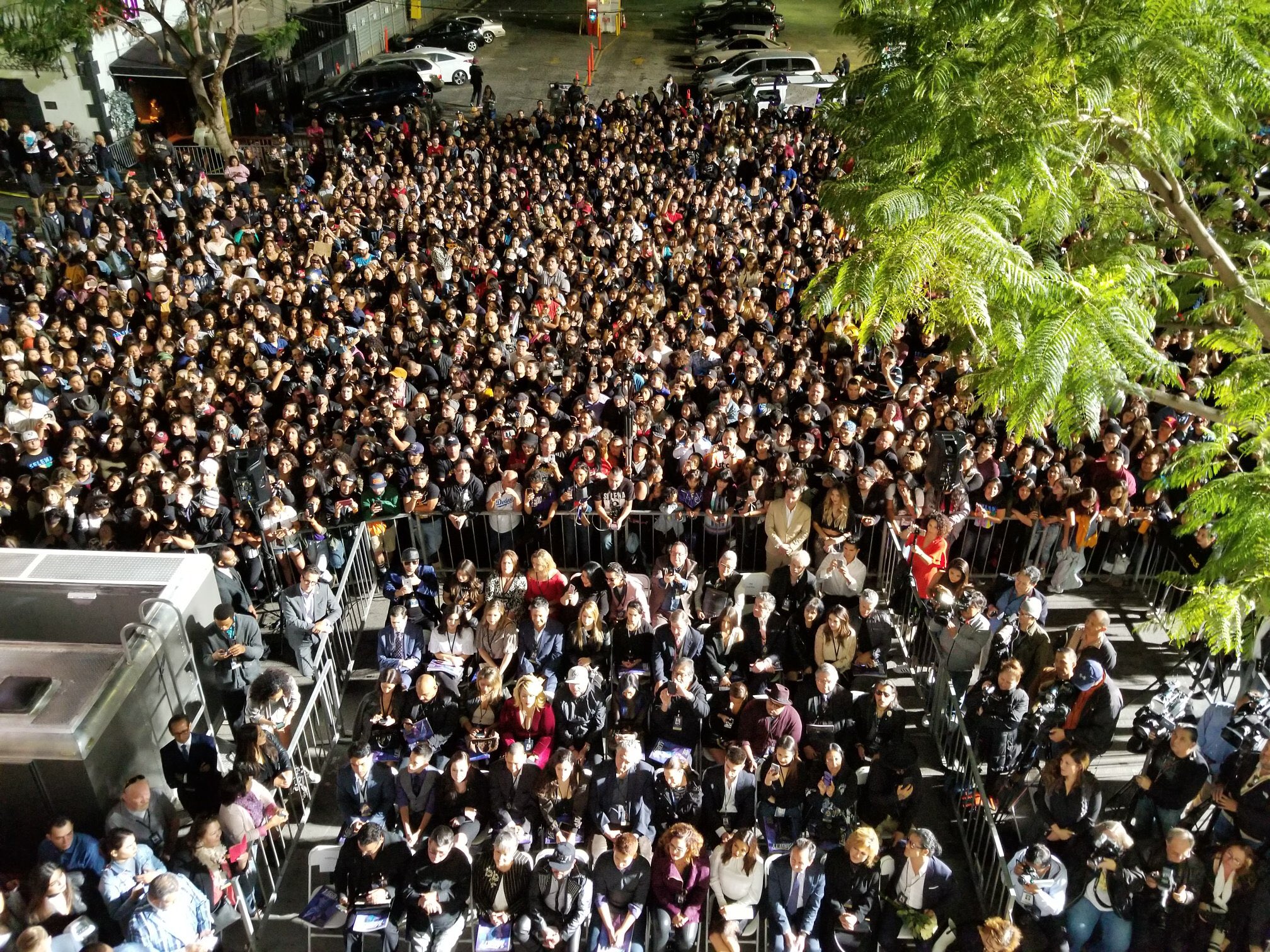 Photos taken from atop Capitol Records.
---
A new star on the Hollywood Walk of Fame proves Selena's legacy is alive and well
November 3, 2017
To this day, Selena's admirers have kept her flame alive through Facebook groups, fan sites, murals, tribute performances and parties to both celebrate her birthday and remember her death.
"She accomplished so much for such a young age," said Roger Gomez, a fan from Santa Ana who manages LoveSelena.com, a website that's been around since 1995. "She represents the whole American dream. She made it, and we could too."
Discovering Selena is sort of a rite of passage for some families.
"Our parents showed us Selena. Now we're showing our kids Selena," Gomez said, adding that her new Walk of Fame star is another accolade to cement her legacy. "In a way it's a stamp of approval. It's another place I could say, 'Selena is here!".
Selena's sister agrees.
"The Hollywood Walk of Fame is the key mother of all those beautiful stars in different cities," Suzette Quintanilla said. "The walk is prestigious; it marks you as a very important artist."
LA Times Article
---
Suzette Visits Power 106 FM Los Angeles, Talks Selena's Star
---
Chris Visits Selena's Star
November 2, 2017
Had to stop by, give a kiss, and say, "I'll see you tomorrow." - Chris Perez
---
Selena's Plaque
November 2, 2017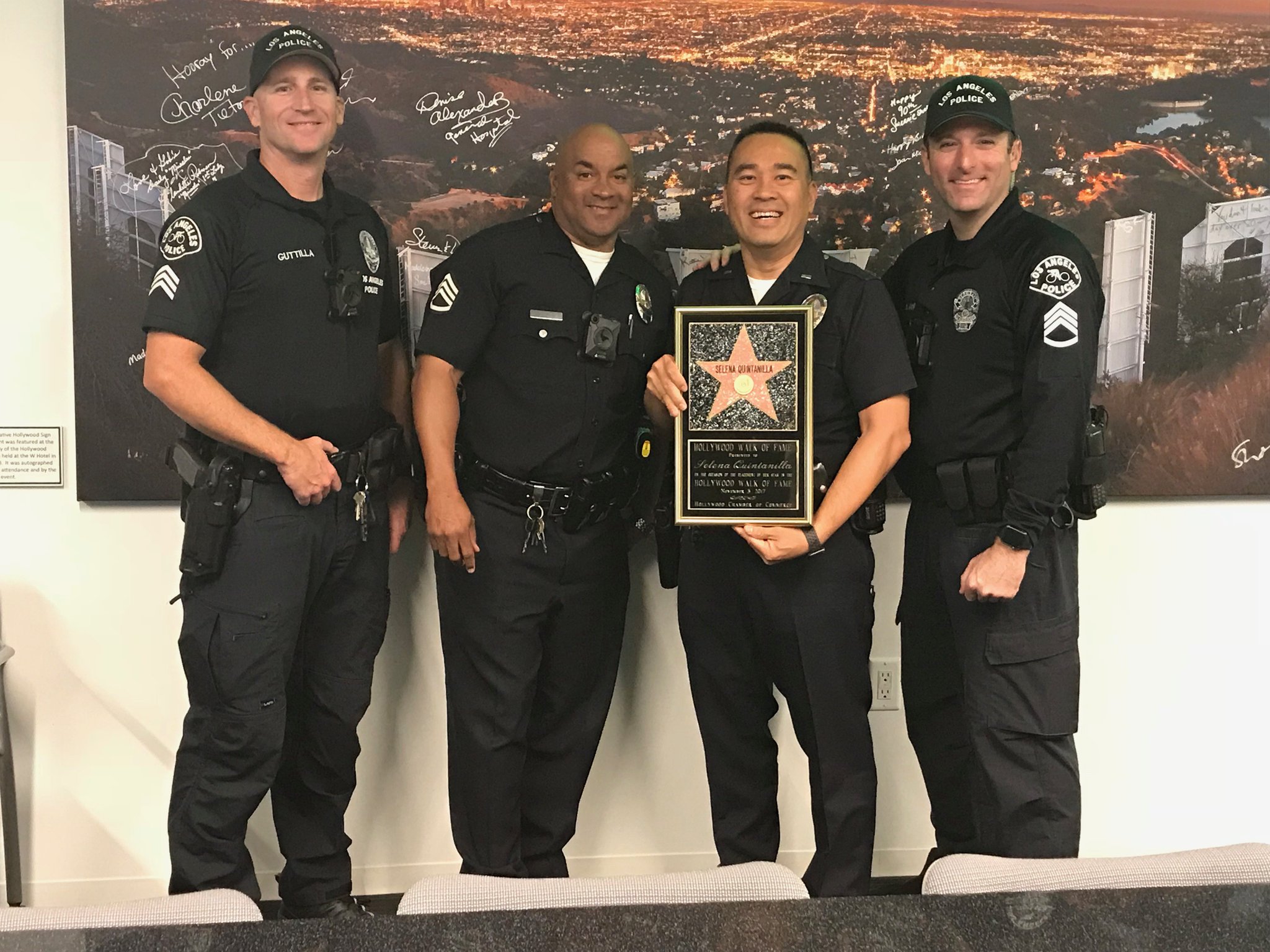 Selena's Walk of Fame star plaque is in good hands with the LAPD Hollywood Division!
---
The Making of Selena's Star.
November 1, 2017
Suzette Quintanilla, sister of the late Selena Quintanilla, helped in the making of the star for Selena Quintanilla which will be unveiled on the Hollywood Walk of Fame on Friday, November 3, 2017 at 6:30 p.m. The 2,622nd star will be dedicated in the category of Recording at 1750 N. Vine Street in front of the historic Capitol Records Building.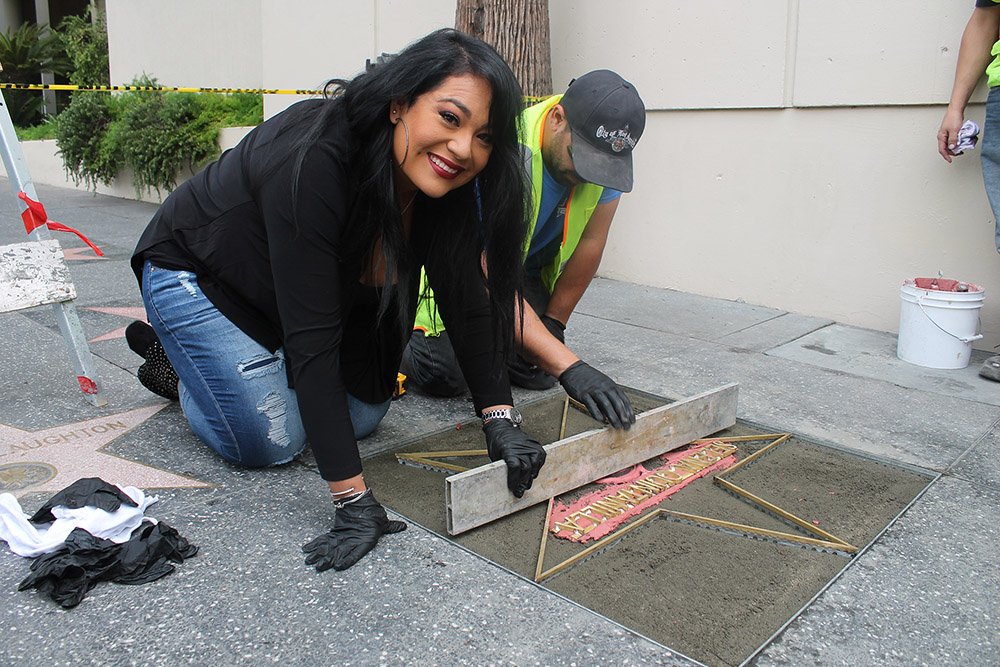 "They don't give this honor to everyone, so I'm beyond honored... to be able to participate in the making of it, priceless." - Suzette Quintanilla
---
FAQ - Need To Know - Day Of Event
WHO: Honoree: Selena Quintanilla
WHAT: Dedication of the 2,622nd star on the Hollywood Walk of Fame in the category of Recording
WHERE: 1750 N. Vine Street in front of the historic Capitol Records Building
WHEN: Friday, November 3, 2017 at 6:30 p.m. PDT
EMCEE: Hollywood Chamber of Commerce, President/CEO Leron Gubler
GUEST SPEAKERS: Los Angeles Mayor Eric Garcetti and actress Eva Longoria to proclaim November 3 as "Selena Day" in the city of Los Angeles.
Accepting the star on behalf of the family will be Selena's sister Suzette Quintanilla
Free!
No Camping Out!
Line starts at 1:30 pm at N/W corner of Yucca.
Porta Pottys at N/E corner Yucca.
We love babies but they should stay home and watch the live stream in a comfy setting with family.

Event will be live-streamed exclusively on www.walkoffame.com
---
Official Date Announcement
October 19, 2017

HOLLYWOOD CHAMBER OF COMMERCE TO HONOR SELENA QUINTANILLA
'THE QUEEN OF TEJANO MUSIC' POSTHUMOUSLY WITH A STAR ON THE HOLLYWOOD WALK OF FAME

Hollywood Chamber to honor Selena Quintanilla with Star on Hollywood Walk of Fame The Hollywood Chamber of Commerce is proud to announce that the late Selena Quintanilla will be honored with the 2,622nd star on the Hollywood Walk of Fame on Friday, November 3, 2017 at 6:30 p.m. The star will be dedicated in the category of Recording at 1750 N. Vine Street in front of the historic Capitol Records Building.

"Since day one of Selena's selection into the Walk of Fame, not a day went by that we were not asked by fans when Selena would get her star. This day has come and fans from around the world will rejoice in her well-deserved honor," stated Ana Martinez, Producer of the Walk of Fame ceremonies. "The Hollywood Walk of Fame honor is the only award which fans can share with their favorite icons. Without a doubt Selena's star will be experienced by millions of her loyal fans for years to come!"

Helping Emcee and Hollywood Chamber President/CEO Leron Gubler to unveil the star will be guest speakers Mayor of Los Angeles, Eric Garcetti and actress Eva Longoria. Accepting the star will be Selena's sister Suzette Quintanilla.

The Hollywood Chamber of Commerce which administers the popular star ceremonies encourages people who are unable to attend and fans around the world to watch the event live exclusively on www.walkoffame.com.

Selena Quintanilla was a singer/songwriter. Her contributions to music made her one of the most celebrated Mexican-American entertainers of the late 20th century. Her music, style and influence is as current today as when she was alive - a true institution for the ages. She was named Billboard Magazine's "Top Latin artist of the '90s", the "Best selling Latin artist of the decade" and in 2016 charted as the 2016 "Top Latin Album of the Year, Female Artist" - her legacy lives in her music and family. While alive, Selena was regarded by the media and adoring fans as the "Tejano Madonna" for her cutting-edge look, style and dance moves. Today, she ranks among the most influential Latin artists of all time and is credited for catapulting the Texas sound into the mainstream national market.

Born on April 16, 1971 in Lake Jackson, Texas, Selena was the youngest child of the Quintanilla family. She debuted in the music scene in 1980 as the lead of the family band "Selena y Los Dinos" with her siblings A.B. Quintanilla and Suzette Quintanilla. Not only did Selena make record breaking music, but she broke all barriers of a male-dominated music industry. Her popularity exploded after she won the Female Vocalist of the Year in the 1986 Tejano Music Awards - a feat she would repeat nine consecutive years. Selena began recording professionally in 1982 and in 1989 she signed with the newly-formed Los Angeles record label EMI Latin and released her first of five record setting albums. Some of her most popular songs include: Bidi, Bidi Bom Bom, Dreaming of You, No Me Queda Mas, Amor Prohibido and Como La Flor.

Aside from her significant contributions to music and culture, Selena was active across her community as she donated time and money to many local and national civic causes - a tradition that continues today through the work of The Selena Foundation. In the mid-1980s, Coca-Cola appointed her its Hispanic ambassador and spokesperson. Her community engagement and the impact of her loss was so great, that two weeks after her death, George W. Bush - then governor of Texas - declared her birthday "Selena Day" in Texas.

On March 31, 1995, Selena passed away tragically and her passing made shocking global headlines. Her posthumous crossover album, Dreaming of You (1995), debuted atop the Billboard 200, making Selena the first Latin artist to accomplish this feat. In 1997, Warner Bros. Pictures released Selena, a film about her life and career, starring Jennifer Lopez as Selena. As of 2015, Selena has sold over 65-million albums worldwide.