New Documentary Reenacts Selena's Final Moments 12/5/2017


The Reelz Channel will end the year with a look at the darker side of the beloved Tejano singer's life story by focusing on her murderer.
Murder Made Me Famous - set to air on Dec. 9 - chronicles what motivated the killer to fatally shoot the Tex-Mex queen in 1995. Ahead of the documentary's release, the network gave an exclusive sneak peek to Latina.com of two reenactments that appear on the film.
Watch the video and Read more here: Article
---
Dream Song Tower Sculpture
11/29/2017


Those entering the South Side from Interstate 35 and Zarzamora will soon be met by a 60-foot, public art structure by San Antonio artist Cruz Ortiz that includes a nod to Selena.
The "Dream Song Tower," which features odes to Selena and local folklore, "will serve as a welcoming gateway to the South San District," according to a statement from San Antonio's Department of Arts and Culture.
The tower will be situated on the corner of Zarzamora and the Interstate 35 Access Road, near Baptist Emergency Hospital.
Ortiz, whose style blends San Antonio pop culture and phrases, incorporated "Siempre Dreaming of You" — a take on the Queen of Tejano's hit song — onto the teepee-like structure in his signature typography.
The artist also created steel birds and stars, which will move with the wind, to attach to the structure.
The completed project, with landscaping and walkways, will be done by December. The city is planning a dedication ceremony for January. Article
Related Article
---
Mural featuring Selena included in Hulu's new San Antonio headquarters
11/28/2017

Hulu opened it's new San Antonio Viewer Experience Operations headquarters on Tuesday, complete with murals that pay homage to Spurs legend Tim Duncan, Beyonce and Tejano queen Selena.
The office, located in the 4500 block of Horizon Hill Boulevard, will serve as a point of contact for Hulu subscribers, who can get help with finding shows to watch and troubleshooting issues through phone, email, virtual chat and social platforms.
Article
---
Pero Like's Interview with Suzette About Selena's Star
11/7/2017

---
Selena Quintanilla's Walk of Fame Star Ceremony Attracts Record Crowd in Hollywood
11/4/2017


Some 4,500 fans gathered on Vine Street in Hollywood on Friday (Nov. 3) to pay tribute to the late Tejano music queen Selena Quintanilla, who was honored with the 2,622nd star on the Hollywood Walk of Fame.
According to a Hollywood Chamber of Commerce spokeswoman, Selena's crowd was the largest-ever for a Walk of Fame ceremony, breaking a 1998 record set held by onlookers at the unveiling of the star for Mexican singer Vicente Fernandez.
Variety Article
Billboard Article
ABC News Article
People Article
Washington Post
---
Selena Quintanilla's Mother, Brother and Husband Chris Perez Reflect on Singer's Lasting Legacy
11/4/2017

"I'm proud of everything that she's been able to accomplish," Chris Perez said to ET. "Thanks to the fans for all the support that they've given, it really truly is all because of them. They keep her alive."
Article and Video
---
A new star on the Hollywood Walk of Fame proves Selena's legacy is alive and well
11/3/2017

Selena is now among 89 Latino artists who have received the honor, according to a list compiled by the Hollywood Chamber of Commerce, which oversees the Walk of Fame. (She joined the likes of Celia Cruz, Ritchie Valens and Jennifer Lopez, the singer-actress whose career took off after portraying Selena in a 1997 biopic.)
Los Angeles will now be remembering the singer every year too. At Friday's ceremony, Mayor Eric Garcetti proclaimed Nov. 3 "Selena Day". Los Angeles is not the first, and probably not the last, city to do so.
To this day, Selena's admirers have kept her flame alive through Facebook groups, fan sites, murals, tribute performances and parties to both celebrate her birthday and remember her death.
"She accomplished so much for such a young age," said Roger Gomez, a fan from Santa Ana who manages LoveSelena.com, a website that's been around since 1995. "She represents the whole American dream. She made it, and we could too."
"Our parents showed us Selena. Now we're showing our kids Selena," Gomez said, adding that her new Walk of Fame star is another accolade to cement her legacy. "In a way it's a stamp of approval. It's another place I could say, 'Selena is here.'"
Selena's sister agrees.
"The Hollywood Walk of Fame is the key mother of all those beautiful stars in different cities," Suzette Quintanilla said. "The walk is prestigious; it marks you as a very important artist.

LA Times Article
NBC News Online Article and video
Variety Article
E Online Article
KTLA news Article and Video
ABC 13 article and video
La Opinion
Hoy Los Angeles
---
Chris Visits Selena's Star Night Before Unveiling
11/2/2017

Had to stop by, give a kiss, and say, "I'll see you tomorrow." - Chris Perez
---
Rare Selena Performance
11/2/2017

Selena singing "Don't Stop 'til You Get Enough/When I Think of You" in 1989 at The Summit.
---
Selena's Plaque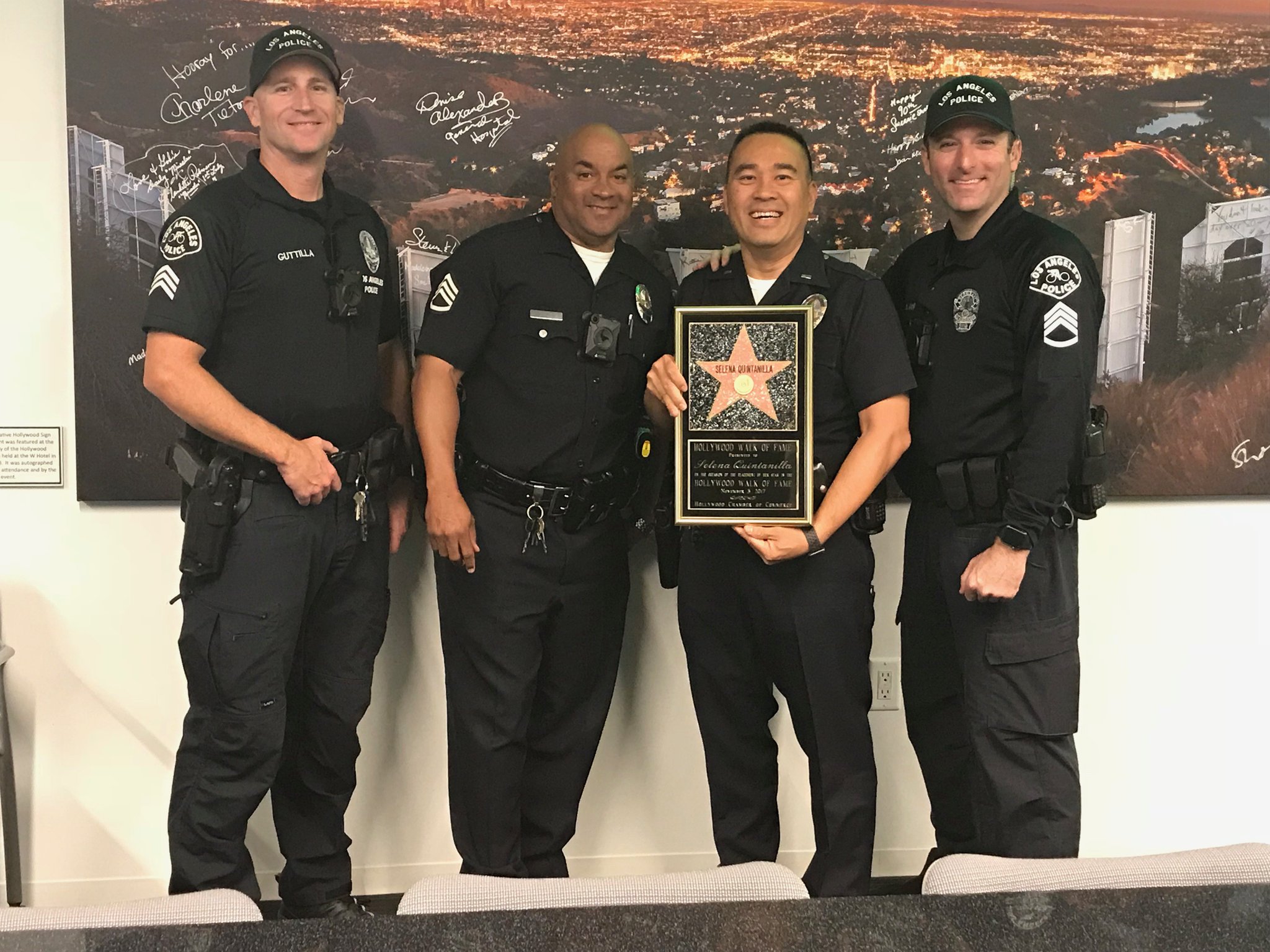 Selena's Walk of Fame star plaque is in good hands with the LAPD Hollywood Division!
---
The Making of Selena's Star.
November 1, 2017

Suzette Quintanilla, sister of the late Selena Quintanilla, helped in the making of the star for Selena Quintanilla which will be unveiled on the Hollywood Walk of Fame on Friday, November 3, 2017 at 6:30 p.m. The 2,622nd star will be dedicated in the category of Recording at 1750 N. Vine Street in front of the historic Capitol Records Building.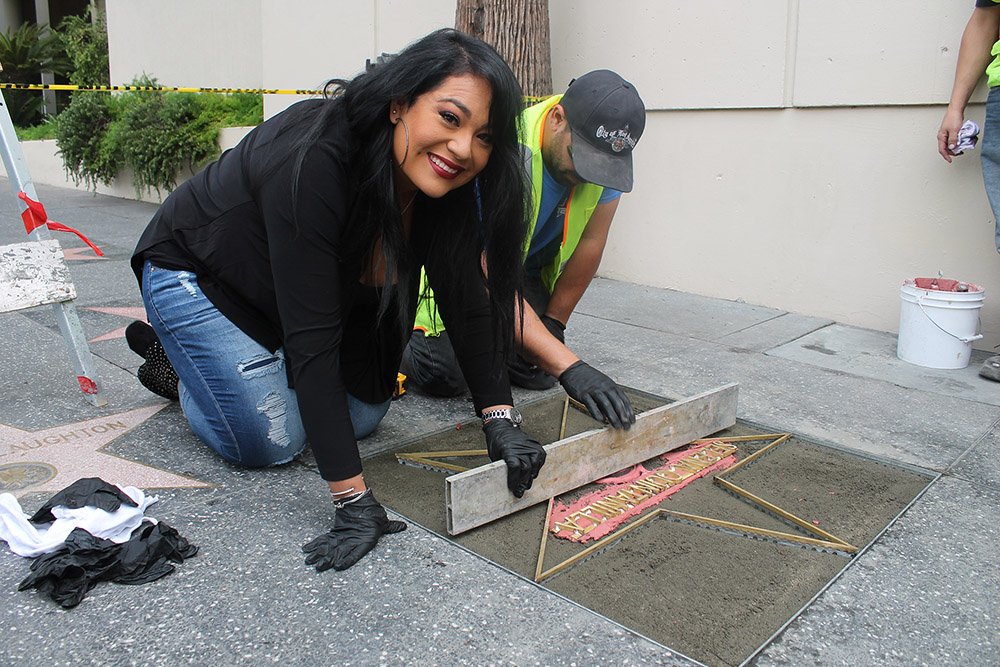 "They don't give this honor to everyone, so I'm beyond honored... to be able to participate in the making of it, priceless." - Suzette Quintanilla
---
My Love - Rare Video
11/1/2017

As we get closer to the unveiling of Selena's star this Friday, here's another rarity gem. Singing "My Love" on Houston TV.
"My Love" is found on Selena y Los Dinos' self-titled album "Selena". Coincidentally, it was the first album Selena y los Dinos signed up with Capitol Records which is exactly where this Friday's ceremony will be held.
---
Selena Halloween 2017
10/30/2017
More than 20 years after her death, the Tex-Mex singer continues to feel as relevant today as she was in the early 90s. That's partly because of her sound, but also because of her iconic fashion. That's why it's not surprising that when Halloween rolls around, people gravitate to her looks, each of them giving them their own unique twist.
Here are some photos we gathered of Fans Dressed as Selena for Halloween.
Article
---
Superstore on NBC Halloween Episode Pays tribute to Selena
10/26/2017

#Selena! She was Beyonce Before Beyonce! Thank you @nbcsuperstore and @americaferrera for paying tribute to #SelenaQuintanilla! Who else watched? LoveSelena.com Like-> fb.com/LoveSelenaOfficial Instagram.com/LoveSelenaOfficial

Posted by LoveSelena.com on Thursday, October 26, 2017


Article: America Ferrera schooled viewers on Selena Quintanilla for her TV show, and it was epic
---
Brighton Park Students Honor Hispanic Leaders With Mural
10/25/2017


Students at Columbia Explorers Academy got to showcase their artistic skills while learning about famous Hispanic figures with their Hispanic Heritage Month mural.
Each mural has quotes from the famous figures depicted, including civil rights icon Cesar Chavez, baseball legend Roberto Celemente, Supreme Court Justice Sonia Sotomayor and singer Selena Quintanilla, among others.
Article
---
Chris Perez to Attend Selena's Hollywood Walk of Fame Star Ceremony
10/25/2017

Just got word...I'll be bound for L.A. in exactly 1 week from today. We have a few things going on out there...the most...

Posted by Chris Perez on Wednesday, October 25, 2017
---
Selena Returns to Social 50 Chart After Google Doodle
10/25/2017


The Google Doodle, which was posted Oct. 17, helped the late star re-enter the chart at No. 14, her first appearance in two-and-a-half years.
Late Latin star Selena re-enters Billboard's Social 50 chart (dated Nov. 4) at No. 14, marking just her second week on the ranking.
The Social 50 is powered by data tracked by music analytics company Next Big Sound and ranks the most popular artists on Facebook, Twitter, Instagram, YouTube, Wikipedia and Tumblr. The chart's methodology blends weekly additions of friends/fans/followers along with artist page views and engagement. The chart's latest tracking week ended Oct. 19.
Though small amounts of social media metrics on the chart came from interactions and mentions on platforms such as Facebook and Twitter, the bulk came from Wikipedia, where the singer accrued 947,000 views to her page, according to Next Big Sound.
Previously, Selena made the Social 50 chart dated April 18, 2015, bowing at No. 49 after renewed attention on the 20th anniversary of her death.
Also, Selena's singles and albums are currently on sale for a limited time on all digital platforms.
---
Superstore: First look at the Halloween episode
10/23/2017


America Ferrera, who will dress as Selena Quintanilla-Perez, told EW: "Our Halloween episode is always a great episode because we get to get out of our daily vest looks and into something more fun. And I am very, very excited about my costume this year on the show."
Turns out, that Selena costume was Ferrera's idea. "Most of us get to choose what we want to be unless it has something to do with the story line."
Superstore airs Thursdays at 8 p.m. ET on NBC.
Article 1
Article 2
---
What took so long for Selena to get her star on the Hollywood Walk of Fame?
10/23/2017


In our eyes, it was never so much a question of whether as it was when. Seriously, what took so long?
She inspires passion from fans across the country as much today as she did more than 20 years ago when she was killed. Maybe even more so.
But here's why Selena's legacy lives on after all these years:
Her music brought Latino communities together and shined a new light on the huge potential of the Latino consumer market. Her career set the stage for many other Latino stars who followed.
She accomplished the pull-yourself-up-by-your-bootstraps American Dream, coming from humble beginnings to the top of her field.
She was a Latina entrepreneur, with a clothing line and boutique.
"There is something magic about Selena," explained Mireya Loza, a curator at the National Museum of American History, which currently has a Selena exhibit on display. "Her story connected with so many people, and it legitimized the Latino experience for many, as well."
She set the standard for what's possible with hard work and dedication. Success is for the taking with a positive spirit and a vision.
That's a universal message.
There's no telling what else she might have accomplished had she not been slain so young. We're glad the Hollywood star will help her legend continue to grow.
Article
---
Al Rendon remembers a photography session with Selena
10/20/2017


Al Rendon, a professional photographer in San Antonio, Texas, has been photographing Tejano music and culture in that city since the late 1970s.
When the Smithsonian collected from the advertising agency of Sosa, Bromley, Aguilar & Associates in 2015, Rendon's photos of Tejano music star Selena stood out. These photos, taken for a Coca-Cola advertising campaign, showed an energetic, beautiful young woman that embodied the idea of the "all-American" girl, but with a mix of glamour and sex appeal that Selena mastered. The photos let Selena's natural sparkle bubble up and illuminate the product. Who wouldn't want to share a Coke with Selena?
We were so interested in the story behind the photographs that we asked Rendon to tell us about his work and the process of photographing Selena. Amelia Thompson interviewed him in September.
This particular shoot came about kind of quickly. They had signed her up for a special promotion where they were going to do life-size cutouts and point-of-purchase posters and all kinds of different materials to promote Coke. As part of that promotion, they had a contest where people could enter to win a trip to one of her concerts and get to meet her backstage and be photographed with her. Apparently, the ad agency had used another photographer to take some pictures for this promotion, and Selena and her family were not happy with the photos and so they needed a reshoot. The family, Selena particularly, made it pretty clear to the ad agency they wanted them to use me.
What are your memories of working with Selena?
I remember her being very much the opposite of a diva. She was very humble. She was very easy to work with, very friendly. She just came in and lit up the room.
Article
Full Interview Transcript

---
Selena Q Star Date Announced!
10/19/2017


Hollywood Chamber to honor Selena Quintanilla with Star on Hollywood Walk of Fame The Hollywood Chamber of Commerce is proud to announce that the late Selena Quintanilla will be honored with the 2,622nd star on the Hollywood Walk of Fame on Friday, November 3, 2017 at 6:30 p.m. The star will be dedicated in the category of Recording at 1750 N. Vine Street in front of the historic Capitol Records Building.
Event will be live-streamed exclusively on www.walkoffame.com
We put together a page on everything you need to know about the star unveiling, news, articles and more HERE
---
Pandora's Selena Station Sees Huge Spike After Google Doodle
10/18/2017
Selena Quintanilla's legacy isn't slowing down anytime soon. After Google released a Doodle of the late singer on Tuesday, Pandora Music saw a 382 percent spike in Selena station adds, and her songs were played nearly half a billion times on Tuesday alone.
A Pandora spokesperson said that on average the Selena station sees around 350,000 plays per day. The numbers generated on Tuesday were garnered from midnight to 11:59 p.m.
Pandora said artists normally see spikes like this on the website when they release new music or perform at award shows.
Article
---
Chris Perez, Selena Quintanilla's Husband: 5 Fast Facts You Need to Know
10/17/2017


With the spotlight focused on Selena Quintanilla as the result of a tribute Google Doodle video, many people are wondering what happened to her husband, Chris Perez.
Perez, who has spoken lovingly and longingly about Selena over the years – and who recently watched the Jennifer Lopez biopic on her with a bottle of wine – has continued to have a career in music since her death 22 years ago.
Article

---
Selena Doodle on Google
10/17/2017


Google has launched a video Doodle to celebrate Mexican-American entertainment icon Selena Quintanilla.
The video Doodle will explore the story of her life set to one of her most iconic songs: "Bidi Bidi Bom Bom".
Although October 17 specifically marks the date of Selena's first studio album release with Capitol EMI (self-titled 'Selena'), we are taking the day to celebrate her life and continued impact on various aspects of popular culture as well as in the lives of her adoring fans.
The Doodle will run in 18 countries for 24 hours starting at midnight local time (except the US, where launch will begin at 9PM PST on October 16 / 12 EST on October 17).
The Selena Doodle video premiered at #1 on trending videos on YouTube.
The Doodle spread social media by fans world wide.
News articles were posted about the doodle everywhere online.
The Selena Doodle lives on forever here at LoveSelena.com on a special page we put together which includes videos, posts and news articles. Visit the #SelenaDoodle page HERE
---
This Is Why Selena Quintanilla's Wax Figure Is Wearing THAT Outfit
10/17/2017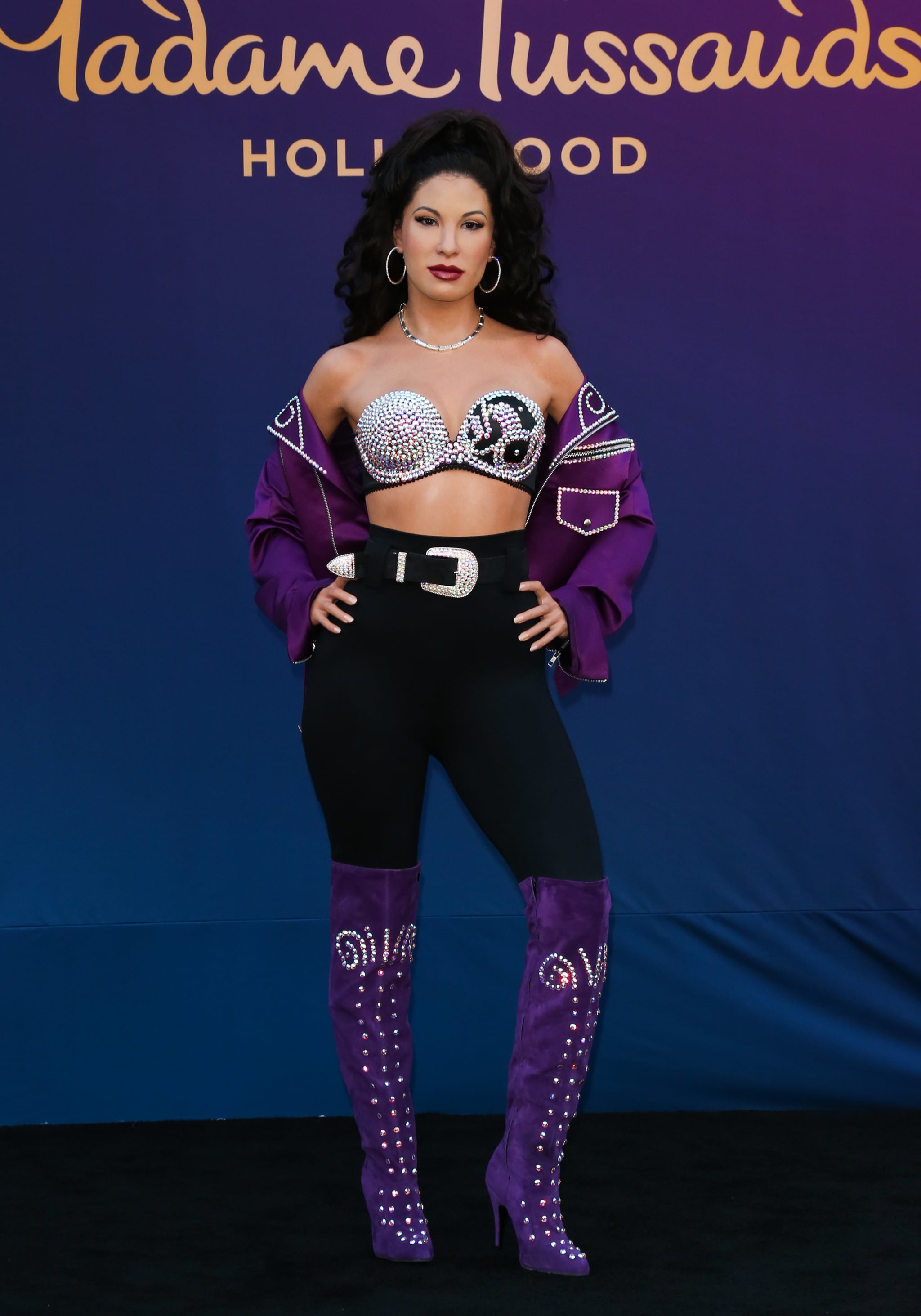 Marcella Quintanilla had chosen the white sparkly dress Selena wore when she won a Grammy for best Mexican-American album in 1994. There was just one big issue: Grammys can't be replicated in wax since the trademark is owned by The Recording Academy. Selena's wax figure could have worn that dress, but without the award in hand.
"We all talked about it; we were just afraid that if you didn't know who Selena was and you saw her at Madame Tussauds standing there in just a white beautiful gown, would you know if she's a singer, what she did?" Suzette Quintanilla, Selena's sister, told Entertainment Tonight. "So we thought, if we can't have the Grammy, then we can put her in the outfit that she won the Grammy for."
Selena's two wax figures are currently on display in Hollywood and New York City, and each is valued at $350,000.
Article
---
The Enduring Beauty Of Selena's Legacy
10/10/2017


From her music to makeup lines and museums, Selena's legacy continues to shine two decades following her passing.
Selena's success wasn't truly etched into the history books until Dreaming Of You, her fifth and final studio album, was released posthumously on July 18, 1995, just four months after her death. During the time Selena began recording sessions for the highly anticipated multigenre work of American pop and Latin music, Behar can only describe it with one word: "magic."
Though Selena achieved much success and lived out her dreams, there's no simple answer as to why her legacy continues, but it's one that certainly is meant to be.
Read Full Article
---
From Selena to millenials, Latinos continue to shape the American marketing landscape
9/14/2017


As the Smithsonian enshrines the singer's artifacts, a look at how the industry has changed.
Tejano singer Selena Quintanilla-Perez is an icon of the highest order, still beloved by millions of fans across the world more than 20 years after an estranged friend murdered her in 1995. She is less remembered for having forever changed the Latino advertising market. But like her lasting influence on music and Latino culture, her status as one of the first Latino spokespeople for a major American brand—Coca-Cola—and her impact on how advertisers treated Latinos remain strong parts of her legacy.
"Selena was a unique, massive talent who wanted to help people, and was very proud to be Mexican-American, and having a spokesperson like that was a big deal for a brand," said Jeff Beck, senior director of culture and strategy at cross-cultural agency the community. "At that time, brands wanted to identify specific groups and plant a flag to say, 'We back these people, we know these people are incredibly important.'"
So, Coca-Cola hired a beloved star whose prominent Latino identity was instantly recognizable and relatable. Selena represented the brand from 1989 until her death, solidifying Latinos as major players in the U.S. consumer market. But, said Beck, things have changed a lot since then. If Selena ushered in the second wave of Latino marketing—the one where Latinos started to really run things—we're now in a third wave, and it's a lot more complex.
There will likely never be another Selena, both because she was a unique talent, but also because Latino influence on American culture is so deep and diffuse that a single person can no longer represent all of it in a marketing campaign.
Article
---
Show your Love for Selena with our new Facebook Frames!
9/14/2017

3 to choose from: 'Anything For Selenas', 'I'm A Selena Fan' and our Classic 'Love Selena'.

---
Inside Selena Quintanilla's World Domination 22 Years After Her Death
10/12/2017


After conquering a male-dominant genre, a feat many deemed impossible, the GRAMMY winner had blossomed into a cultural icon at the time of her death.
While the passing of time can be a detrimental factor for any celebrity, in Selena's case, it's only helped broaden her legacy. Her cultural resonance can, in part, be attributed to her growing fan base and numerous pop-cultural markers -- including the 1997 movie, Selena, as well as tribute concerts, a wax figure, a special edition makeup line, statues and a festival in her hometown of Corpus Christi, Texas -- that continue to place the late singer center stage.
"New generations have grown to love her, look up to her and want to be like her." - Suzette Quintanilla
Selena's musical talent wasn't the only reason fans of all ages fell in love with her. She had a physical appeal that resonated with Latinos worldwide, especially young females.
"When you look at Selena, she has dark hair and darker skin, and a curvaceous body, which I think resonates with who we are as a majority," Suzette explained. "When you see her in interviews, she was who she was, and she didn't pretend to be anything else."
"She had this really hearty laugh and she didn't care," she continued. "You could see the genuine and good-hearted person that she was. I think that's another major aspect as to why people view her the way they do. She was beautiful physically and she had this amazing voice that was able to draw you in whenever she sang."
Read Full Article
---
Vote for Selena! MTV Music Charts Award: Legendary Artists Of Music
9/12/2017


Vote Here
---
Yo Te Sigo Queriendo (I Still Love You): Memories of Selena
9/12/2017


From the 1950s to 1970s, U.S. advertising started to shift from mass marketing to recognizing and defining distinct target markets. A unique example of this includes the rise of Selena Quintanilla-Pérez (1971–1995), whose hard-won fame spoke to a large cross-section of fans in the United States, in Latin American markets, and across the world. A new display opening September 12, 2017, in our American Enterprise exhibition explores marketing history and this pop icon.
Selena's family donated one of her performance costumes to the museum in 1999, shortly after I arrived as the director of public affairs. This outfit, with its leather boots, spandex pants, satin bustier, and motorcycle jacket, was iconic of what our then curator of Latino history and culture Marvette Perez described as Selena's idiosyncratic style, "wavering between sexy rebel and Mexican American good girl." We placed the costume on view in 2001 as part of Moda y Musica: Stage, Fashion, and Style, a display of four showcases featuring Hispanic performers and designers. Raised speaking English, Selena had to learn to sing Spanish phonetically. Ironically, her "cross-over" material for English-language radio was not released until the end of her career.
In life, and in death, Selena meant many things to many people. Her significance to Tejano music and the efforts for her to "cross-over" to English music are not lost on anyone, but it is her impact as a businessperson that we are now able to get a sense of as we look back. If her life had not been cut tragically short, there is no telling what she could have accomplished, but her ongoing popularity is a testament to her significance in American culture.
Despite the passage of time, Selena still has a huge impact on her original fans and on new generations of fans.
In the American Enterprise exhibition, the objects that will highlight Selena's contributions to Hispanic advertising history include her leather motorcycle jacket and beaded bra, photographs from the Coca-Cola advertising campaign, and Selena memorabilia that help to illustrate her personality, style, impact, and powerful fandom. The exhibit will give the public a chance to see pieces of who she was and the gorgeous music that she created.


Read Full Article HERE
Also Read: Still dreaming of you: Selena's outfit at the Smithsonian from September 18, 2014

---
Rare Selena Interview Surfaces from 'Tejano USA'
9/12/2017

RARE Selena video, not seen in more than 20 years was found and digitized by the Smithsonian's National Museum of American History. This footage of Selena on the program "Tejano USA" was found in a TV camera donated to the museum's Spanish-language television project by Univision, the parent company of San Antonio's KWEX-TV, Channel 41. The station's production manager put an unlabeled ¾ inch tape in the camera to show what format that camera used.
When the museum digitized the video this summer, the Selena footage was discovered. The production manager, who actually directed the segment with Selena, tells the museum that after Selena passed away in 1995, he had looked everywhere for the video with no luck. The video resurfaced just as the museum planned to open a display on Hispanic Advertising that includes the Tejana artists' work as a spokesperson for Coca-Cola.
---
Suzette Reunites With Jennifer Lopez at Vegas Show
9/12/2017

Jennifer and Suzette posed together with their men at the pop star's Las Vegas residency show at Planet Hollywood.
"Its always feels good to see Jennifer and seems like old times when we hung out during the making of the Selena movie. I don't get to see her much. It always makes me feel good inside when I hear her speak of what my sister means to her. How Jennifer looks up to her not only as an artist but as a person. Jennifer has accomplished so much in her life, and to know that Selena and our family's story is a part of her road to success is humbling."
Article
---
Selena Wax Figure 1 Year Anniverary
8/30/2017

Today marks the one year anniversary since #MadameTussauds unveiled the first #SelenaWaxFigure in Hollywood!
*Celebrate by renewing your #SelenaPass/Annual Pass for only $10!
*Buy a commemorative #Selena Shirt and keychain at the @TussaudsLA gift shop while supplies last.
*And today only, a special photo opportunity with the #SelenaQuintanilla #WaxFigure!


Visit Selena at Madame Tussauds
6933 Hollywood Blvd
Hollywood, CA 90028

---
New Selena Mural In Los Angeles
8/26/2017

A mural created by a 15-year-old girl depicting 16 inspirational women throughout history was unveiled Saturday in Boyle Heights.
Isabel Peinado spent about 600 hours preparing and painting "Empowerment." Her work earned her a Girl Scouts Gold Award, the organization's highest honor, according to the Girl Scouts of Greater Los Angeles, which praised Isabel for demonstrating exemplary vision and leadership.
"I hope this mural inspires little girls to choose any profession or calling they decide," the artist said.
Article
---
Hurricane Harvey
8/26/2017

No damages were reported to the Selena Statue or The Selena Museum during or after Hurricane Harvey.

---
Celebrating 20 years of 'Selena' The Movie
8/19/2017

Photos from this past weekend with Chris Perez at the screening of the Selena Movie in Los...

Posted by LoveSelena.com on Tuesday, August 22, 2017


Fans showed up for an outdoor screening of "Selena" the movie at the Los Angeles State Historic Park with special Guest; Chris Perez and music by Karol Posadas and the Dreaming Of You Band.
---
Chris Peres Shares Memory
7/25/2017

Just heard this song again tonight from one of my favorite bands #Extreme...and I had a memory...late night in our Los...

Posted by Chris Perez on Tuesday, July 25, 2017
---
'Dreaming Of You' Released 22 Years Ago
7/18/2017


Selena's 'Dreaming Of You' was released posthumously on July 18, 1995; 22 years ago today.
Recorded between December 1994 - March 1995.
It was an immediate success, debuting atop the United States Billboard 200—the first predominately Spanish-language album to do so.
It sold 175,000 copies on its first day of release in the U.S.—a then-record for a female vocalist. With first week sales of 331,000 units, it became the second-highest first-week sales for a female musician since Nielsen Soundscan began monitoring album sales in 1991.
Billboard magazine declared it a "historic" event, while Time said the recording elevated Selena's music to a wider audience.
It won Album of the Year at the 1996 Tejano Music Awards and Female Pop Album of the Year at the 2nd annual Billboard Latin Music Awards.

---
New Selena Mural
7/17/2017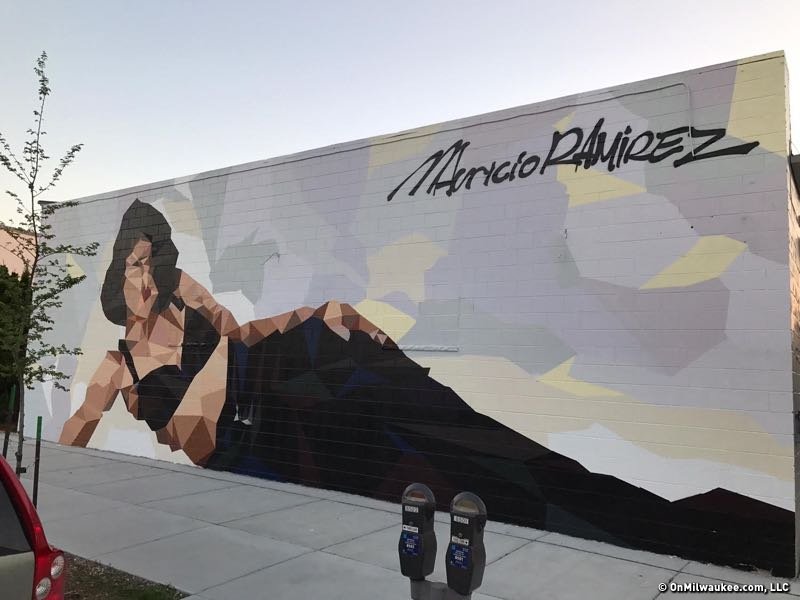 Artist Mauricio Ramirez and the Walker's Point neighborhood honored the life and career of Quintanilla-Pérez with the installation of a new conceptual mural, "Anything for Selena."
Located at 625 S. 5th St. in Milwaukee, the 20-by-50-foot conceptual piece was completed on Sunday evening. Ramirez spent more than 25 hours working on the mural using spray paint and tape, creating a tribute to Walker's Point history and culture as well as Selena's musical themes, which include acceptance and love.
Article
---
22 Years Later, Selena's Last Performance Is Still Considered One of Her Best
7/14/2017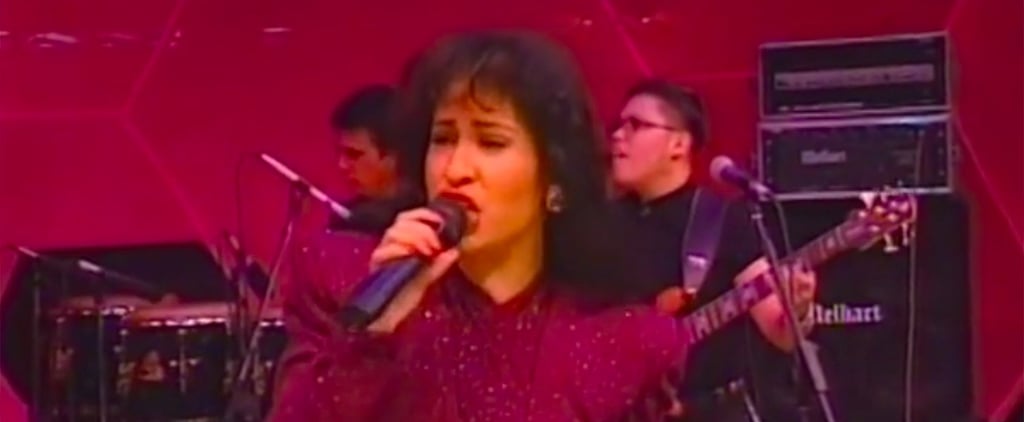 Selena's last concert will always be remembered as one of her very best. Her last performance, just a little less than a month before her untimely death, took place on February 26, 1995 at the Houston Astrodome in Texas in front of thousands of people.
During the concert, televised live, the Tejano singer performed some of her biggest hits from her "Amor Prohíbido" album and even had a medley mashup of covers, like Gloria Gaynor's "I Will Survive," Lipps Inc.'s "Funkytown," Donna Summer's "Last Dance," and more. The now-iconic concert also marks the first (and last) time, Selena wore the purple jumpsuit that still serves as one of her most identifying looks.
After her death, fans were able to relive Selena's last concert through Live! The Last Concert, a recording of her vocals from that night, released as an album by her family in 2001. The performance was also famously brought to life by Jennifer Lopez in the 1997 movie Selena.
Watch official videos on Selena Vevo
Article
---
Austin Tejano music scene strives to create speace for female artists
7/9/2017


Widely referred to as the queen of Tejano music, Selena Quintanilla broke into the Tejano music industry with her lively music and vibrant image, proving that females too could achieve success in this genre.
Today, women are using idols such as the late Selena as a role model in the Tejano industry. In the Austin area — capital of the state that gave birth to the Tejano genre — female lead singers, composers and independent artists are following in her footsteps as they strive for a more gender-mixed industry.
"We do have one woman who paved the way for us and that was Selena," local Tejano singer Nikki Lopez said. "Before her I don't think women were truly respected in the Tejano industry. Ever since Selena, women have been trying to come out with their own style."
Full Article
---
The Meaning Behind Selena's Name Could Not Be More Fitting
7/2/2017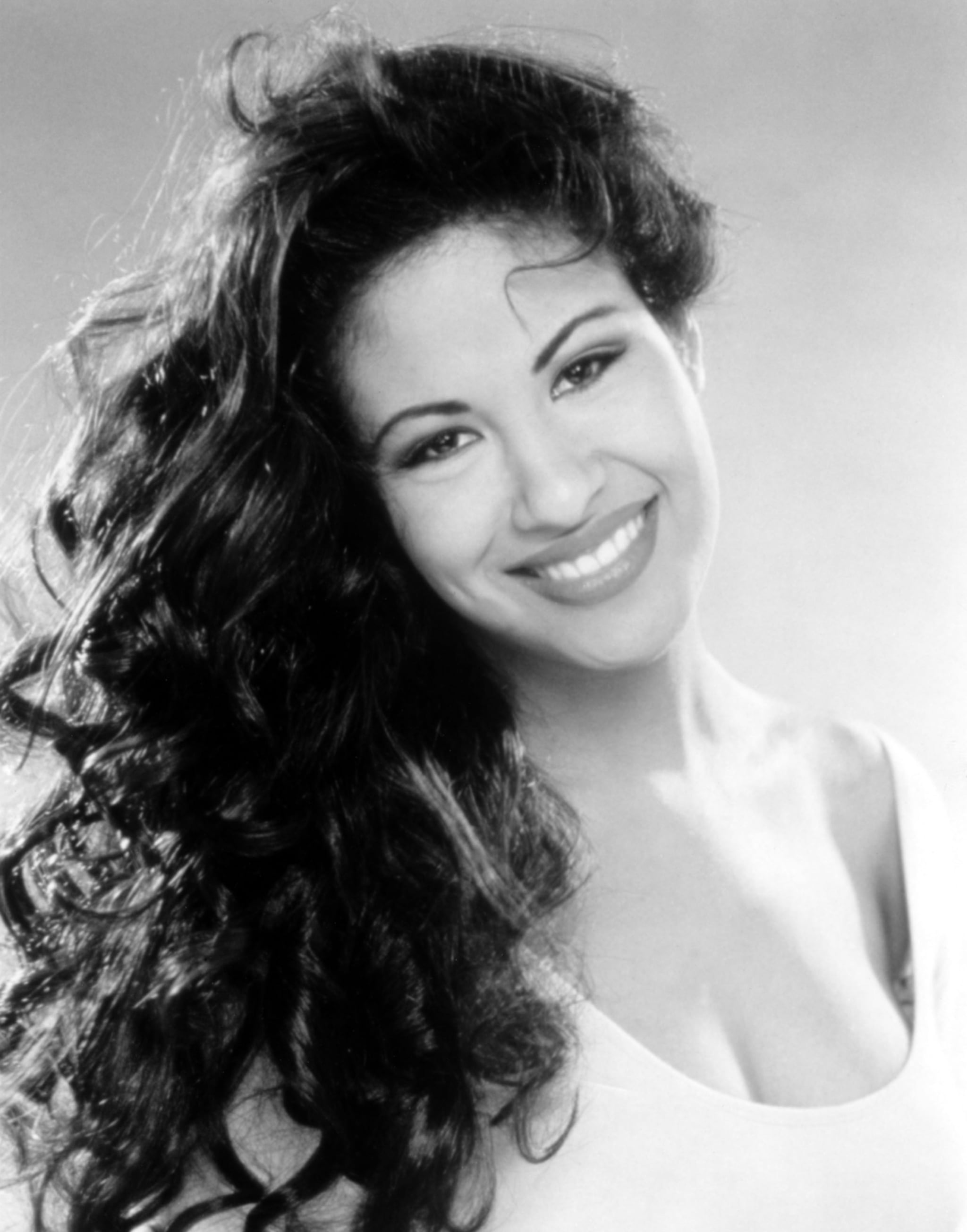 The name Selena is one that needs no last name — Selena Gomez might be famous now, but if you say Selena to any Latinx, they'll know you're referring to the original: Selena Quintanilla.
While Selena G. was named after Selena Q., the meaning of the Tejano singer's moniker is one that might surprise you. The name derives from the Greek word Selene, which means "moon goddess" — yes, Selena's name literally means goddess. Tell us that's not incredibly fitting considering the Mexican-American singer was basically born to be a star.
While Selena's parents haven't revealed the inspiration for naming their youngest daughter, the name has only grown in popularity in the past few years. The year Selena passed away, her name was number 91 on the list of most popular baby names. It's now in the 285th spot.
Article
Visit our new page dedicated to those named after Selena: The Selenas
---
January-June 2017