Selena: The Series Facebook | Selena: The Series Instagram | Netflix.com/Selena | Netflix Youtube


Follow The Cast
Christian Serratos as Selena
Madison Taylor Baez as Young Selena
Ricardo Chavira as Abraham Quintanilla
Seidy Lopez as Marcella Quintanilla
Gabriel Chavarria as A.B. Quintanilla
Juan Martinez as Young A.B.
Noemi Gonzalez as Suzette Quintanilla
Daniela Estrada as Young Suzette
Julio Macias as Pete Astudillo
Jesse Posey as Chris Perez
Hunter Reese Pena as Ricky Vela
Carlos Alfredo Jr. as Joe Ojeda
Paul Rodriguez as Roger Garcia
Luis Bordonada as Johnny Canales
Oscar Avila as Manny Guerra
Eric 'Rico' Aragon as Jose Behar
Glady Bautista as Vangie Quintanilla
Christian Escobar as Bill Arriaga
Marcela Guirado as Veronica Castro
Josselyne Gallardo as Debra
Rolando Vargas as Martin Gomez
Rodrigo Basurto as Freddy Correa
Tyrell Washington as Don Shelton
Natasha Perez as YS



Part 2 Teasers, Trailers and Videos:
Part 2 Episodes
1. Como la Flor
Distraught by her upcoming tour and the thought of being separated from Chris, Selena makes a dramatic, life-changing decision.
2. Enter My World
During the band's Mexico tour, Veronica Castro presses Selena about her love life. The singer struggles with whether to tell her fans about Chris.
3. The Call
A.B. faces challenges trying to record new music for the album. Selena attempts to convince her family she can handle opening a boutique.
4. Itty Bitty Bubbles
Selena writes a new song while worrying about going solo for her English album. Suzette plans her wedding. Yolanda offers to help with the boutique.
5. Oh No
As Selena's career gains momentum, she struggles to juggle all of her business obligations and her parents caution her not to forget about her family.
6. Lo mas bello
When "Live!" receives a Grammy nomination, a star-struck Selena and Suzette attend the awards show. Ricky pens lyrics about unrequited love.
7. Si una vez
Selena's confidence plummets when her label suggests she hire a vocal coach. To make matters worse, the singer feels distanced from Chris.
8. Astrodome
Yolanda pleads her innocence as the accusations against her continue to pile up. Abraham investigates. Selena performs to a sold-out Astrodome.
9. When All the World is Sleeping
Selena and Chris plan their future family. A distraught Yolanda asks for the singer's help and a grim tragedy occurs. "Dreaming of You" is released.
Part 2 Soundtrack
Episode 1:
Como La Flor - Live The Last Concert
Missing My Baby
Baila Esta Cumbia
Episode 2:
Besitos
Como La Flor
Siempre Estoy Pensando En Ti
Baila Esta Cumbia
La Carcacha
Episode 3:
La Llamada
No Debes Jugar
Episode 4:
No Debes Jugar
Bidi Bidi Bom Bom - 1995 Dreaming OF You Album version
Episode 5:
Techno Cumbia
La Carcacha
Ya No
Episode 6:
Amor Prohibido
No Me Queda Mas
No Debes Jugar
Episode 7:
Captive Heart
Si Una Vez
I could Fall In Love
Episode 8:
Como La Flor
Baila Esta Cumbia
Amor Prohibido (Live from the Astrodome)
Como La Flor (Live From The Astrodome)
Episode 9:
No Me Queda Mas
La Carcacha
Dreaming Of You
Bidi Bidi Bom Bom (Dreaming of You album version) I Could Fall In Love

Other Music Used in Part 2
Episode 1:
Gypsy - Fleetwood Mac
Episode 2:
N/A
Episode 3:
I've been thinking about you - Londonbeat 2020
Young Soul Rebel - Mark Waterfield
Episode 4:
Before I'm Gone - Marc Ferrari and Paul Taylor
Give It Up, Turn It Loose - En Vogue
Episode 5:
Right Here, Right Now - Jesus Jones
Free Your Mind - En Vogue
Episode 6:
Old Flame - Rory Patrick Dempsey and Dominic David Sales
Episode 7:
Nervous Tick - Del El-Meghozi
Show Me Love - Robin S.
London Raver - Max Bronco and James Patrick Kaleth
Cocktail Piano 1 - Rick Cassman & Vyv Hope-Scott
Episode 8:
El Corrido de Emiliano Carranza - Los Famosos Del Norte
Don't It Make My Brown Eyes Blue - Madison Taylor Baez
Episode 9:
All That She Wants - Ace Of Base
That Age Old Dance - John Harry Cacavas and Jennifer Jean Cacavas
Feelings - Madison Taylor Baez
Te Quiero A Ti - Kumbia Kings

Part 2 - Articles and Reviews
The Series finally puts the singer in the spotlight, but it's not nearly enough
The Series finally puts the singer in the spotlight, but it's not nearly enough
Show's Depiction of Icon's Death: 'It Doesn't Need to Be Gratuitous

My Favorite Scenes from Part 2
When Selena and Chris married
Selena creating Selena Etc.
The creation of Bidi Bidi Bom Bom
The recording of "No Me Queda Mas"
Meeting with Keith Thomas
Selena Etc Fashion Show
The Houston Astrodome
Selena, How would you like to be remembered?

---
Part 1 premiered December 4, 2020
25 million households danced to the rhythm of the first season of Selena: The Series, in its first 28 days.
It was Top 10 in 23 countries and Top 10 in Mexico for 26 days!
And so that no one remains seated, season 2 arrives on Netflix on May 4, 2021
Part 1 Teasers, Trailers and Videos:
Part 1 Episodes:
1. "Daydream"
Amid financial strife, Abraham Quintanilla prioritizes his 8-year-old daughter Selena's musical talent and has her start a band with her siblings.
2. "Dame Un Beso"
Brother AB struggles to find Selena a song for a new single, while Abraham tries to convince a music executive to produce a record with the band.
3. "And the Winner is..."
Selena is nominated for Female Vocalist of the Year at the Tejano Music Awards. The band travels to Matamoros, Mexico, for an important performance.
4. "Open Act"
Selena y Los Dinos embark on a strenuous cross-country music tour, which puts strain on the singer's vocal cords, so the band searches for a solution.
5. "Dulce Amor"
Abraham weighs two offers from major record labels. As Selena and her band garner more attention, a dashing new guitarist is asked to join.
6. "My Love"
While preparing the new album, the Quintanilla family clashes with the record label's decisions, especially when it comes to Selena's fashion style.
7. "Fideo"
Sister Suzette becomes concerned when sparks fly between Selena and the new guitarist, Chris. Meanwhile, AB is under pressure to write new songs.
8. "Gold Rush"
Selena celebrates her growing successes - including an album going gold - but fights to get an English album produced. Suzette meets someone new.
9. "Que Creias"
Selena feels conflicted about her secret relationship with Chris. Meanwhile, AB finds inspiration in a memory of a plastic flower and lost love.
Photos
Click HERE to view photos in our facebook gallery.
Part 1 Soundtrack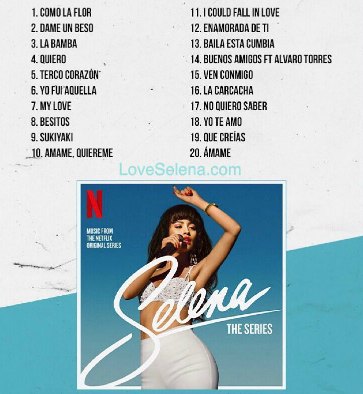 Other Music Used in Part 1:
Episode 1
Baby I'm A Want You - Pablo Stefanoni
I'm Leaving It All Up To You - Madison Taylor Baez (young Selena)
Feelings - Madison Baez
Confidencias De Amor - Original Los Dinos
Why Do Fools Fall In Love - Madison Baez
Dance A Little bit closer (12" mix) - Charo
Funkytown - Madison Baez
Don't It Make My Brown Eyes Blue - Madison Baez
Pasado, Presente y Futuro - La Orden
Easy - The Commodores
Parece que va a llover - Los Tres Reyes
Parece que va a llover - Karla Delfin
Episode 2
Parece Que Va A Llover - Karla Delfin
Word Up! - Cameo
Candy - Ballin Entertainment
Too Shy - Kajagoogoo & Limahl
Venus - Bananarama
Si Vivi Contigo - Grupo Refuego
Episode 3
Our Lips Are Sealed - Fun Boy Three
Si Tu Supieras - Cornelio Reyna
Take Your Time (Do It Right) - The SOS Band
Looking For A New Love (Live) Selena Y Los Dinos - Jody Watley song
Tu Solo Tu - Linda Ronstant
Poison Arrow - ABC
Episode 4
Drivin' My Life Away - Eddie Rabbit
Mercedes Boy - Pebbles
Point Of No Return - Nu Shooz
Decidelo - Mazz
Catch Me I'm Falling - Pretty Poison
I.O.U. - Freeze
Rosas Para Una Rosa - Julio Macias (Pete Astudillo actor)
Episode 5
Mentirosa - Mellow Man Ace
Rosas Para Una Rosa - Julio Macias
Keep On Movin' - Soul II Soul
Confidencias De Amor - Fernando Masan and Juan Manuel Torreblanca
Tu Solo Tu - Linda Betzabel
Dame Amor - Roberto Pulido
Episode 6
Come Go With Me - Espose
Straight Up - Paula Abdul
Episode 7
Don't You Want Me - Jody Watley
More Than Words - Max Cremona
Bust A Move - Young MC
More Than Words - Christian Serratos & Rico Martinez
Talking In Your Sleep - The Romantics
Voy A Sonar - Humberto Ramon
More Than Words - Extreme
Episode 8
Love Come Down - Evelyn "Champagne" King
Forever Your Girl - Paula Abdul
Right Here Right Now - Jesus Jones
What's Your Name - Don & Juan
You Can't Judge A Book By It's Cover - Bo Diddley
I'm Walking - Fats Domino
Episode 9
No More Words - Berlin
Make It With You - Pablo Stefanoni
Part 1 - Articles and Reviews
What Would Selena Want? Billboard
Catching up with Chris Perez as 'Selena: The Series' hits Netflix Austin-American Statesman
'Selena: The Series' brings Tejano culture to Netflix - and the world. Preview Houston Chronicle
The Never-Ending Exploitation of Selena. Vice
Christian Serratos knows she's not Selena. LA Times
Trying to Capture The Icon's 'Spark'. ET Online
Estilo DF Digital Magazine (Spanish)
DON'T BE THIS TYPE OF FAN. Bidi Bidi Blog Blog
Netflix Series Is Remarkably Uninterested in Selena the Person Vulture/New York
Dreaming of Her The New York Times
Larger-Than-Life Selena Murals We Are Mitu
Series creator answers burning questions, teases part 2 is 'rise of Selena the superstar'. Entertainment Weekly
The Great Selena: The Series Debate: Is It Good or Is It Bad? E online
How The Series transformed Christian Serratos into Selena. Entertainment Weekly
We Need to Talk About Selena Texas Monthly
How Selena's Costume Designer Recreated The Star's DIY Bras For The Series Refinery29
The Series Removes The Music Icon From Her Own Story Elle
The Series Achieved This Significant And Rare Milestone During Its First Week Forbes
Selena's husband felt excluded from Netflix series NY Post
What Netflix Leaves Out & What Happens Next Screen Rant
A.B. BACKS NETFLIX PORTRAYAL TMZ exclusive
With Fake Behinds And Bad Acting, Netflix Failed Millions Of Selena Fans The Federalist
Netflix Reveals Viewing Data Deadline
Selena Series Part 2 to Premiere in May People
Video/YouTube Reviews
Could Selena possibly have been as sunshiny, as generous, as self-possessed as she appears in Christian Serratos's performance? Aside from changing her hairstyle perhaps too often, was she really without flaws?
"Pretty much, Unless you woke her up. That was probably the grouchiest you were ever going to get from her."
- Suzette Quintanilla for The New York Times.
My Favorite Scenes from Part 1
little girl gives Selena a light up white rose.
That split second when AB hears "Dame Un Beso" on the radio.
The talk with Laura Canales in the restroom.
When Selena meets Chris for the first time.
the "Amame" scene
The whole relationship between Selena and Chris - I want to see more!

My Thoughts:
Going in, I was extremely excited to finally watch it. I stayed up from 12am - 5:30 am to binge watch the series - part 1.
My initial reaction was a bit disappointing that there wasn't more of Selena and that Selena came across as a shy naive girl - a bit clueless - and star not shining as bright - oppose to the CONFIDENT, STRONG, SAVVY, AHEAD OF HER TIME - WOMAN we know. It was hard for me to see her in a different light even as a teenager. After reading some articles I became aware that Netflix said yes to the show because they would ALSO focus on Selena's family, the back stories, the rise of Los Dinos, the struggles of the Quintanilla Family which explains why it isn't 100% Selena Selena Selena - And it also explains why Netflix said yes, because how could you compare to a classic like "Selena" The Movie and why would we want to see the same story, right?
And maybe that's why I really ended up loving the series. They told us stories we've read or heard about (and some that we know), They re-enacted classic Selena moments as a kid, to the Johnny Canales Shows, to a behind the scenes of what might have happened at the TMA's - and gave us soo much more... Stories, moments, memories and different perspectives frozen in time. Except Selena's, because she's not here to tell them. So no matter how many movies, shows and documentaries they make, they will never find "Selena" because there was only one SELENA - but we'll still watch because 25 years later she's still much missed, needed and loved.
What alot of people tend to forget is that Selena wasn't a solo artist;
She had her family, her band and her husband.
Selena's story is also their story.
After watching the the series for a second time, I love it and enjoy it even more...
I just might start watching it for the third time!
Selena Was Here ❤️ And She Still Is!