Selena's Best TV Performances
8/10/2018
Selena Quintanilla's music has helped many people cope, heal broken hearts, find love, and be happy.
Whether it's "Como la Flor" or "El Chico del Apartamento 512," her songs are charged with empowering and positive lyrics that have become must-have selections in anyone's playlist.
Although the Queen of Tejano passed away in 1995, her legacy is kept alive thanks to her devoted fans, her beloved family, and social media.
Click below to see her best tv performances.
Billboard
---
Selena Book: Who Was Selena
8/7/2018


Discover why Selena, the Queen of Tejano music, became one of the most celebrated Mexican-American entertainers of the twentieth century!
As a young girl, Selena Quintanilla sang in a band called Selena y Los Dinos with her brother and sister. The family performed at fairs, weddings, quinceañeras, and on street corners in their native Texas. Selena learned how to sing in Spanish and soon became hugely popular within the Latino community - so much so that she became the best-selling Latin artist of the 1990s. Selena was poised to be a great success, but her life was cut short after being fatally wounded by the president of her fan club. Selena's contributions to music and fashion during her life made her one of the top Latin musicians in the 1990s, and readers will want to know more about the woman who introduced the world to Tejano music.
Buy where ever books are sold!
---
NEW Selena Mural in Los Angeles
8/2/2018


Located in Mariachi Plaza, in Los Angeles Ca.
---
Selena Mural Gets Make-over
8/2/2018


In 1995, the mural was dedicated by West Oso High School students and art teacher Dicky Valdez in honor of the late singer, shortly after her death. Valdez lived during that time in Molina, on Corpus Christi's Westside.
The mural features a poem dedicated to Selena, a painting of her draped in her iconic leather jacket and white long-sleeved shirt with the words "always in our hearts."
Read More: Corpus Christi Caller Times
---
Dreaming Of You turns 23
7/18/2018

---
Selena's ONES is #1... Again!
7/11/2018


Selena is once again on the number one spot of itunes Latin charts with her #SelenaOnes album which is currently on sale for only $4.99!
---
"Como La Flor" RollingStone's 50 Greatest Latin Pop Songs
7/11/2018


Rolling Stone chronicles Latin America's most influential pop songs, from the 1950s to now.
#19 Selena, "Como la Flor" (1989)
Before Selena Quintanilla-Perez revolutionized the bustier and became the Patron Saint of Texicans, she and her family of Jehovah's Witnesses toured restaurants and county fairs as a wholesome band called Los Dinos. The band's first taste of international success came with "Como La Flor," a cumbia infused Tejano cut from their third studio album, Entre a Mi Mundo, which peaked at Number One on the Billboard Regional Mexican Albums Chart and 97 on the Billboard 200 in the States. The band's breakthrough hit not only won over audiences in Mexico, but established Selena as a worthy contender in the male-dominated Tejano market. In the album's liner notes, Selena's older brother, bassist A.B. Quintanilla, claimed he wrote "Como La Flor" in a Bryan, Texas motel, after watching young children "trying to feed their families" by selling plastic roses at a night club. With the boo-hooing cadence of a traditional ranchera song, Selena sings from the perspective of a woman discarded by an ex-lover, who compares their love to a withered flower. Their finest rendition of the song would be Selena's last: a performance that crowned the historic Houston Astrodome show in 1995.
RollingStone
---
Top Ten Female Celebrities Who Passed Away but Still Make Their Fans' Spirits Alive
6/21/2018
These celebrities were able to contribute much of their effort and talent just to make people happy. While they shocked us with their sudden death, their influence will always remain in our hearts.
Selena was an actress, singer, model, songwriter, fashion designer, and spokesperson. Popularly known as the Queen of Tejano music, her excellent contributions both to fashion and music made her one of the most renowned Mexican-American entertainers of the 20th century. Selena Quintanilla was also named as the best-selling Latin artist of the 1990s, and her posthumous collaboration along with MAC cosmetics became the top-selling celebrity collection in the history of cosmetics.
The Sports Daily
---
Newsweek pays homage to Selena with 100-page tribute
5/11/2018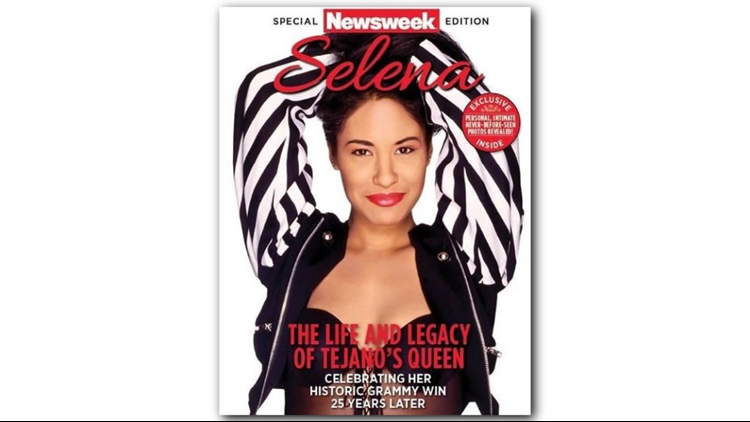 "Newsweek Special Editions is proud to present Selena, a 100-page tribute to the most beloved Tejano singer of all time. Selena Quintanilla-Perez was more than just an entertainer: She was an ambassador, a style icon and the most recognized South Texan ever. In this unique edition, we tell Selena's story from beginning to tragic end with photos, interviews and more, a must-have for any fan of Selena."
UPDATE: The magazine has sold out every single time it has been listed on the newsweek website, weeks before its retailer release. You can purchase wherever Newsweek magazine is sold and displayed til July 14, 2018.
Sold for $12.99
---
Chris Perez interview with KENS 5, San Antonio, TX.
5/5/2018
Chris Perez, the husband of the late Selena Quintanilla, joins KENS 5 in studio for an extended interview about the Tejano legend's legacy. Watch the video: HERE
---
NEW Two-story Selena mural is artist's gift to people of North Oak Cliff
5/1/2018


Dallas, TX. The vibrant two-story mural of Selena Quintanilla pops off its white background. Admirers say you can almost hear the late singer belting one of her famous songs.
She's the Tejano queen. She always will be," said Yeny Valencia, a Selena fan who drove over 30 minutes to see the painting.
Jeremy Biggers, a local artist in Dallas, is the man behind the mural. He says he got the idea while watching the neighborhood change and gentrify.
"People are coming in and literally erasing what was here before," Biggers said.
Family-owned stores, many owned by Hispanic entrepreneurs, have struggled over the last two years as new money and new businesses have moved in and changed the price point and the feel of the historic street.
Ernesto Montiel works at Top Ten Records next door to the mural. He says the gentrification is a mixed bag and has its upsides, but it's vital the neighborhood preserves its history and the soul of the community.
Read More HERE
---
Selena Stripe Cups for 2018
4/2/2018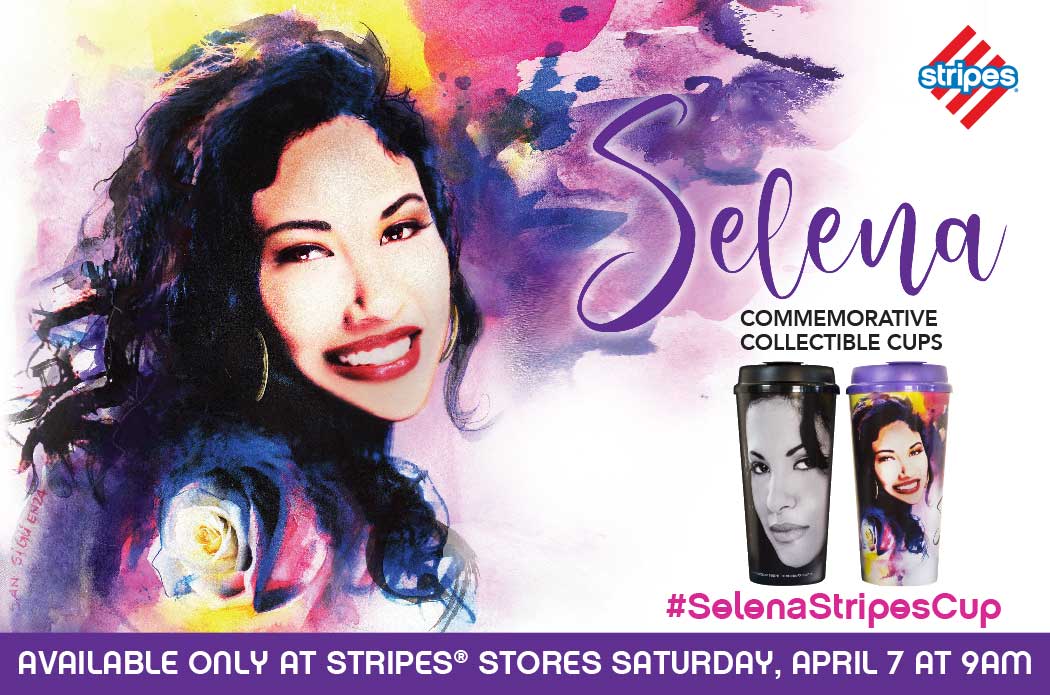 Stripes Stores is proud to announce the release of two new limited edition and limited release Selena Commemorative Collectible cups that will be sold across Stripes stores in Texas and Louisiana on Saturday, April 7, 2018, starting at 9 a.m. with a limit of four cups per person. Customers and Selena fans may begin to line up at Stripes for their chance to purchase a cup at 8 a.m. on Saturday prior to the 9 a.m. release time. The cups will be priced at $2.99 and will be available while supplies last. Like last year, portions of the cup sales will benefit the Selena Foundation.
Visit stripesstores.com for more info.
---
Selena forever: Iconic Tejano star's legacy lives on 23 years after her death
3/31/2018


On a recent Tuesday morning, the Selena Museum was packed with visitors of all ages. Selena's music played softly in the background as families, couples and young children moved between the exhibits of her gold records, costumes and her dolls.
NBC News Article
---
Chris Perez Remembers Selena
3/31/2018

---
Remembering Selena 23 Years Later
3/31/2018

Articles in remembrance:
ABC 7 NY
Dallas News
KIII TV
KGNS Laredo News
Caller Times
---
Minneapolis Ice Cream Shop Renames Flavors After Influential Women
3/29/2018


Milkjam Creamery is doing something special for women's history month to honor the inspiring women of the past and present. They have renamed all of their ice cream flavors after influential women.
Some of the notable flavor names are a raspberry sherbet with chocolate chips named "Selena Quintanilla" (pictured, a cereal inspired flavor named "Chloe Kim," a Mexican coffee with churro flavor named "Zendaya," and a toasted coconut named "Adele." The company truly celebrates a diverse group of women from all different backgrounds and cultures.
Article
---
H‑E‑B Announces Sale Of Limited‑Edition Selena Bag
2/28/2018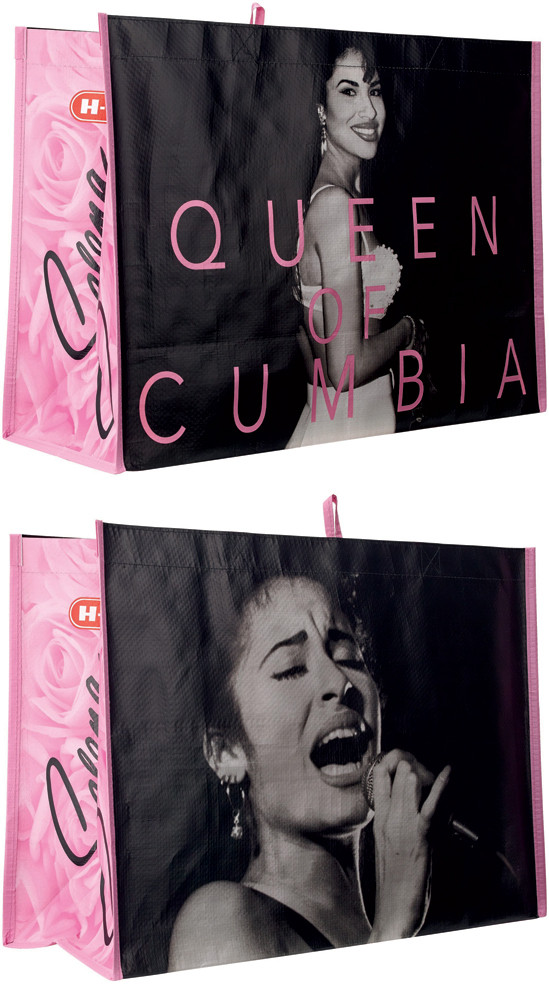 Starting Friday, March 2nd, the limited‑edition reusable bags will be sold for $2 at select H‑E‑B stores across Texas and online at HEB.com. Made of 100‑percent recyclable material, the fashionable totes will be available exclusively at H‑E‑B while supplies last. Limit two bags per person.
"At H‑E‑B, we're excited to offer our customers this commemorative Selena bag, which is a tribute to such a beloved personality whose music continues to inspire people everywhere," said Cory Basso, H‑E‑B Group Vice President of Marketing and Advertising.
H‑E‑B worked with Selena's sister, Suzette Quintanilla, to create the design for the chic tote, which features iconic images of the Latin music superstar and the title "Queen of Cumbia" in bold, pink letters.
On Friday, March 2nd the bags will go on sale in H‑E‑B stores starting at 9 a.m. and online at HEB.com starting at noon. Bags also will be conveniently available through H‑E‑B Curbside and home delivery via hebtoyou.com.
As part of this partnership, H‑E‑B will donate $25,000 to The Selena Foundation, a non‑profit organization committed to community and educational initiatives. The Selena Foundation will dedicate funds from this donation to the Boys & Girls Club of the Coastal Bend.
Article
Update 3/2/2018:
*Website crashed minutes before they were to go on sale online.
*Once website was up, were listed as "Sold Out" online.
*HEB does NOT ship to CA.
---
East Austin welcomes new mural with Selena
2/17/2018


The mural at East 12th Street and Chicon Street was unveiled Saturday morning as part of a community celebration of culture.
The mural features more women such as Maya Angelou, Beyonce and even famed Tejano music star Selena Quintanilla. It also features icons like Prince, Jimi Hendrix and Miles Davis.
Article
---
Becky G talks Selena and Fiesta De La Flor
2/15/2018


"Selena was the epitome of everything that I needed growing up. That Spanglish life, a little bit of English, a little bit of Spanish. You don't have to choose," Becky said, who grew up in Inglewood, California. "I always say, I'm the 200%. 100% Latina just as much as I am 100% American. I shouldn't have to divide myself to live in both worlds."
"The festival will be a lot of fun," she continued, adding that "Bidi Bidi Bom Bom" was the first Selena song that inspired her. "Anybody can sing that, you know? It's catchy!"
Article
---
Selena X 2
2/8/2018


Selena Gomez was spotted today wearing a vintage Selena shirt from 1997.

---
Selena Wax Figure Heading to Madame Tussauds Orlando
1/31/2018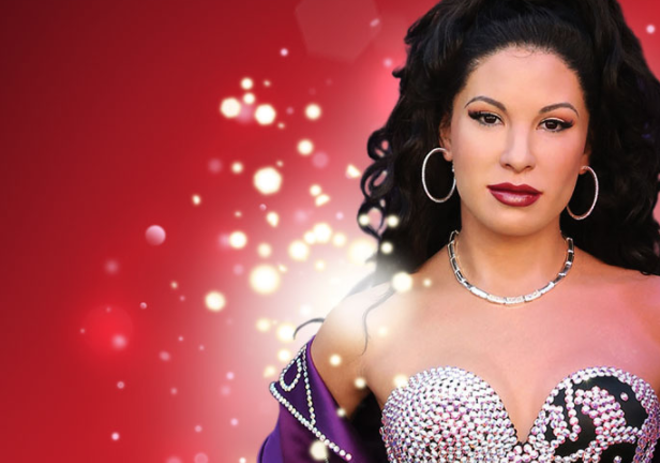 The Selena figurine, which is modeled after her 1993 concert performance in Corpus Christi, Texas, will only be in Orlando from Feb. 13 to April 8.
The company made the announcement Wednesday, and also stated they're hosting a special contest to be among the first to see "Selena" in Orlando.
Fans can enter by recording themselves singing their favorite Selena songs using the hashtag #LoveSelenaOrlando. Winners will receive tickets to the opening and have their video added to the attraction. More details about the contest can be found here.
Madame Tussauds will announce the winners via Twitter on Feb. 9.

---
Fiesta De La Flor 2018
1/23/2018


Tickets for 2018 Fiesta de la Flor go on sale on Monday, January 29.
Make sure to check out the Fiesta de la Flor Facebook Page at 10:00 a.m. CST for the Facebook Live Feed of the band line-up and things planned for festival.
Fiesta de la Flor is offering a very limited amount (4) of 2-Day passes for sale at last year's prices. If you would like to purchase your tickets prior to the announcement for $15, you can purchase your tickets between Monday, January 22 at 5:00 pm through Monday, January 29 at 10:00 a.m. ONLY.
They are capping the amount of tickets you can purchase to give as many Fans a chance to grab their tickets at this special, early bird price.
Purchase : https://fdlf2018.eventbrite.com
Type in the code: FDLFSuperFan
Announcing a VIP ticket experience for the 2018 festival. The VIP ticket will include a 2-Day Pass to Fiesta de la Flor, and special experiences for the ticket holder. It will also include an exclusive commemorative Fiesta de la Flor poster, a VIP festival merchandise tent, a VIP beverage station and more!
For more information about the VIP ticket experience, check out fiestadelaflor.com on January 29 after the announcement.
Purchase your VIP ticket for $50 today to secure your spot. There is a very limited quantity of VIP tickets for sale, so make sure you grab yours before they sell out!
You can secure your VIP Ticket early by clicking on fdlf2018.eventbrite.com and type in the code: FDLFSuperFan
One day ticket: $15 + $4.16 fee & Sales Tax
Two day ticket: $25 + $5.31 fee & Sales Tax
VIP: $50 + $8.18 fee & Sales Tax
Visit FiestaDeLaFlor.com to purchase tickets, music line-up, experience, info and more!
---
Leslie Jones, a Selena fan!
1/16/2018


Actress and Comedienne Leslie Jones appeared on Late Night With Seth Meyers on January 16, wearing a Selena shirt.
---
10 Inspiring Latinas Who've Made History
1/16/2018
#4. Selena: Born Selena Quintanilla on April 16, 1971, in Texas, the artist known as 'Selena' was a pop superstar who brought Mexican Tejano music to the masses. She's one of the most influential Latin artists of all time, winning a Grammy award in 1993 and a gold record in 1994 with Amor Prohibido. Selena, along with Rita Moreno and Gloria Estefan, was one of the few Latin pop stars who crossed over into the mainstream. She was tipped to be the next Madonna, but tragically her career was cut short when she was shot by the president of her fan club over a dispute over the latter's embezzlement of Selena's company money. On the posthumous release of her last album, a nation mourned the death of this lost talent.
Google Arts & Culture Article
---
ABC Gives Pilot Commitment to Series Inspired by Legacy of Selena Quintanilla
1/10/2018


The series focuses on Alex Guerra, a chart-topping, award winning pop star who has been estranged from her family for 5 years. She tries to pick up the pieces when a crisis forces her to return home. Alex finds herself back in Texas, juggling a love triangle, the demands of her career and the dark secrets of the family that she now desperately wants to win back.
Variety Article
A lot of people misunderstood the advertisement. They think it's about Selena. It's not," said Abraham Quintanilla.
"It's about this girl who grew up as a Selena fan and wants to become a singer..and she becomes successful and then after being out ah, away from her family for five or six years she decides she wants to come back and mend things will her family," Quintanilla said.
Quintanilla stresses, this is a fictional story whose main character named Alex Guerra is inspired by the legendary singer, but Selena's presence will be limited.
"You'll probably see maybe pictures or posters of Selena, maybe in her bedroom of things like that you know," Quintanilla said.
3News Article and Video
---
Madame Tussauds Celebrity Match
1/9/2018


Is Selena Quintanilla your celebrity match? Find out at madametussaudscelebmatch.com
---
Top 10 Selena Quintanilla News And Moments of 2017
1/1/2018


Click image to visit the Top 10!
---