Selena Movie on Blu-Ray available at: WBshop.com
Selena's Ones Double Vinyl 2020 edition.
Download these Selena coloring and activity pages.
Video "Are you ready to be loved": Unreleased Selena song, male cover.
MAC Selena VaultSells out in one minute, ends up on ebay over 3 times its price.
MAC Selena Release date and pieces. - More on MAC Selena
Fotos y Recuerdos: Fans remember Selena 25 years later
Why Selena Matters: with Fredy Correa (Barrio Boyyz) and Angela Aguilar.
Streaming Of You: Selena is still 'la reina' on Spotify
Fans show off their photos with Selena
Billboard: 25 ways Selena's legacy has endured: A timeline.
The Washington Post: Fans remain devoted to Selena.
Love for Selena still runs strong with fans.
Designing a dream: Selena's designer; Martin Gomez says Selena was 'not of this world'.
Backstage with Selena: Jose H Rios Jr recounts his memories of the Tejano singer.
Living with Selena, 25 years later - by Joey Guerra.
MAC reteams with Selena for La Reina makeup collection.
These 24 Selena songs don't get played enough.
Ranking Selena's albums, from Mis Primeras Grabaciones' to 'Dreaming of You'.
"Ven Conmigo" inducted into National Recording Registry of the Library of Congress.
Jennifer Lopez Celebrating Selena
Selena Inducted into the Rodeo Houston Star Trail of Fame
Para Todos Magazine Honors Selena on March 2020 cover
People En Espanol "Ella es Eterna" - English Version Cowboys and Indians Siempre Selena
Video "Fotos Y Recuesdos": The Jose Rios Photo Collection .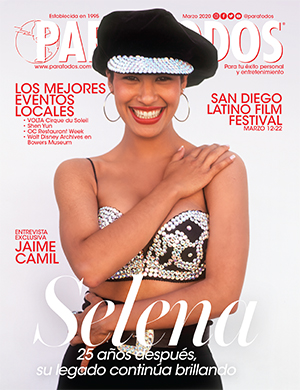 Click to view the digital copy.
Click to purchase a physical copy.

Mi Gente Magazine April 2020 Selena Articles:
Mike Mendoza Captures Photos of Selena.
Cesare Bonazza Captures Selena's Beauty.
"I Could Fall In Love" Producer; Keith Thomas Remembers Selena
Selena's Story Continues To Be Written.
Selena in Saginaw, Michigan.
Click to purchase a physical copy.