Your one-stop for all Selena related locations and addresses!
Corpus Christi
San Antonio
Houston
Los Angeles
New York
Dallas
Phoenix
Milwaukee
Apodaca, Mx
___Corpus Christi Locations___
Selena Museum/Q-Productions
5410 Leopard Street Corpus Christi, TX 78408 (361) 289-9013
Museum hours: Monday-Friday 10:00am to 4:00pm
http://www.q-productions.com


Selena Memorial - Mirador de la Flor
500 N. Shoreline Blvd. (at Peoples St. T-Head), Corpus Christi, TX 78401


Design details:
*Made of bronze
*Height is 5 feet 8 inches, life-size
*Surrounded by a stainless steel 4-foot barrier to protect it from vandalism
*Its face is turned toward the water
*A single white, sculpted rose is next to her
*Black leather outfit depicted in statue is housed at the Smithsonian's National Museum of American History
*La flor: White roses were Selena's favorite and have come to symbolize the singer
*Unveiled: May 25, 1997, about two years, two months after her death
*Sculptor: H.W. "Buddy" Tatum of Corpus Christi
*Cost: $600,000 for both statue and pavilion
*Benefactor: Devary Durrill Foundation
*Inscription: "Her stage is now silent. Yet, her persona enriched the lives of those she touched and her music lives on..."

Selena Etc. Inc. Boutique & Salon (now State Farm)
4926 Everhart Road. Corpus Christi, Texas, 78411


Selena & Chris's Home
705 Bloomington St. Corpus Christi, Texas, 78405-1708


A.B.'s old home
707 Bloomington street Corpus Christi, Texas, 78405-1708

Abraham, Marcella's old home
709 Bloomington street Corpus Christi, Texas, 78405-1708

Seaside Memorial Park & Funeral Home
4357 Ocean Drive Corpus Christi (361) 992-9411
Selena's Final Resting Place

Selena Auditorium
1901 North Shoreline Boulevard Corpus Christi, TX 78401 Ph: (361) 826-4700
http://www.americanbankcenter.com/selena


South Texas Music Walk Of Fame
302 N. Water St. Corpus Christi, TX. 78401
Includes Selena & Chris Perez's Star.
The walk begins in front of Water Street Oyster Bar and circles the fountain in front of the Executive Surf Club.
Selena was inducted in 2004
Chris Perez was inducted on June 3, 2017


Swantner Park
5200 Ocean Dr, Corpus Christi, TX 78412
"Washing Machine" scenes from "Selena - The Movie" were filmed here.


Corpus Christi Museum of Science and History
1900 N. Chaparral Street, Corpus Christi, Texas 78401 Ph. 361-826-4667
Hours of Operation: Tuesday - Saturday 10:00am - 5:00pm /Sunday 12:00pm -5:00pm
ccmuseum.com/
Includes an exhibit honoring Selena, who has been called "The Queen of Tejano music."
Original molds and bronze Selena statues on display


Selena Mural (Time's Market)
847 Bloomington Street, Corpus Christi, Texas 78416
On the side of a convenience store, a few blocks down from where Selena lived, you will find this memorial mural.
The mural was painted by a group of high school students a few weeks after the Selena's death.


Selena Mural (Las Casuelas Lounge)
**No Longer There**
3149 Morgan Avenue, Corpus Christi, TX. Ph. (361) 882-1985
By: Eric James


Texas Roadhouse Mural (seating next to the bar)
2029 S. Padre Island Drive Corpus Christi, TX 78416 (361) 854-9505


Texas State Aquarium
2710 N. Shoreline Blvd Corpus Christi, TX 78402 1.800.477.GULF
texasstateaquarium.org/
Selena Plaque at the very end, turtle tank

Days Inn (now Knights Inn)
901 Navigation Blvd/I-37, Corpus Christi, TX 78408 (361) 888-8599


Olive Garden Restaurant
5258 S. Padre Island Drive Corpus Christi, Texas, 78411 (361) 992–4742
Selena's favorite restaurant


Whataburger Restaurant
121 N Shoreline Blvd Corpus Christi, Texas 78401 (361) 881-9925
Another of Selena's favorite restaurants


Nueces County Clerk
901 Leopard St. Room 208, Corpus Christi, TX 78401
Where Selena and Chris united their Love in Marriage.
___San Antonio Locations___
Selena Ect. Inc Boutique and Salon (now CD xchange)
3703 Broadway Street San Antonio, Texas, 78209


Selena Shrine - Mi Tierra Restaurant
218 Produce Row San Antonio, TX 78207-4554 Ph. 210-225-1262
mitierracafe.com/home.php


The Depot at Historic Sunset Station
1174 E. Commerce St., San Antonio, TX 78205 Ph: 210-474-7640
sunset-station.com/
No Me Queda Mas video was filmed here. Also here; At The Plaza, Texas Musicians Mural which includes Selena.


Hard Rock Cafe
111 West Crockett Street, San Antonio, TX 78205 Ph: (210) 224-7625
Selena Star at entrance, Includes Selena outfit, photos and memorabilia inside.


River Walk - Paseo Del Rio
165-285 River Walk St.
thesanantonioriverwalk.com
Scenes from "Selena" The Movie were filmed here.
A lovely arched stone bridge, nicknamed "Selena's Bridge" crosses the River Walk between
the Omni La Mansion del Rio and Watermark hotels between N. Saint Marys St. and Navarro St.


The Alamo
300 Alamo Plaza San Antonio, TX 78205 Ph: (210) 225-1391
"Bidi Bidi Bom Bom" scenes from "Selena" The Movie were filmed here.


Selena Mural
100 Beatrice Ave, San Antonio, Texas
On a wall of a small shopping center on South Flores.
By Christopher Montoya


Lerma's Nite Club
1602 N Zarzamora St. San Antonio, TX 78201
savelermas.org/
"We Want to Dance, Queremos Bailar" scenes from "Selena" The Movie were filmed here.

___Houston Locations___
Selena Quintanilla Perez Park & Community Center
6402 Market Street Houston Texas
Previously known as Denver Harbor Park, The City of Houston operates the Selena Quintanilla Perez Park-Denver Harbor, named after Selena Quintanilla.
The park has a .87 mile hiking and bicycle trail, a volleyball court, a swimming pool, a playground, and a lighted sports field.
The city also operates the Selena Quintanilla Perez Community Center,
which has a weight room, and indoor gymnasium and meeting rooms, at the same address.


El Dorado Ranch (Now known as Club El Dorado)
10801 Kingspoint Rd. Houston, Texas - (832) 798-5885
Selena performed here many times and also had this famous photo shoot here.


Houston Astrodome (now known as Reliant Astrodome)
One Reliant Park, Houston, Texas, 77054
http://reliantpark.com
More than 66,746 fans, came out on Sunday, February 26, 1995, to see Tejano superstar Selena
and her band Los Dinos perform for a sell-out crowd during the Houston Livestock Show and Rodeo.
Selena y Los Dinos performed two consecutive times before at the Astrodome, breaking previous attendance records each time.


Reliant Stadium (next to the Astrodome)
One Reliant Park, Houston, Texas, 77054
http://reliantpark.com
Reliant Stadium hosted "Selena VIVE!" in 2005, held to commemorate the 10th anniversary of Selena's death.
The concert was held on April 7, 2005 with over 70,000 attendees.
The special was produced and filmed by the Spanish language network, Univision,
and is the "most watched Spanish-language special" in U.S. history.

___Los Angeles Locations___
Selena Wax Figure
Madame Tussauds Hollywood
6933 Hollywood Blvd. Los Angeles, CA 90028
(866) 841-3315 Hours 10:00AM - 10:00PM.
Buy Tickets
More info: HERE
Unveiled August 30th, 2016


***Coming 2017***
Selena Quintanilla Hollywood Walk Of Fame Star
Location to be determined


Join the Event Page to be updated!

Capitol Records Building 1750 Vine St. Los Angeles, CA 90028


Ricardo Montalban Theatre 1615 N. Vine Street, Hollywood CA. 90028
Selena Forever Musical/Selena, A Musical Celebration Of Life Premiered


Selena Mural at Plaza De La Raza
3540 N. Mission Rd., Los Angeles, CA 90031
Mural Artist: Levi Ponce
leviponce.com
PlazaDeLaRaza.org
Plaza De La Raza is Home of our annual Selena Tribute; The #SelenaFanGathering.
More Info: HERE


Selena Mural at La Especial 700 Cypress Avenue, Los Angeles, CA. 90065
Mural Artist: Martinez, A.
Dated: 6/30/96


Stay Strong Mural
1600 Sunset Blvd. Los Angeles, CA. 90026
Side building of Fashion Of Echo Park, facing Echo Park Ave.
Featuring Frida Kahlo, Dolores Huerta and Selena Quintanilla
Artist: @Hengone and @la_steez
June 30, 2015


Anything For Selenas
1108 E. 76th Pl. Los Angeles, CA. 90001
Art By: Sand "Sandoner"
http://sandoner.com
April 18, 2015


Selena Mosaic at Civic Center/Metro Park Adding Info and photo soon
Hollywood High School Auditorium Mural
1521 N. Highland Avenue - Hollywood, California (on HIGHLAND between Hollywood & Sunset)
A culturally diverse depiction of Hollywood celebrities which include:
Dorothy Dandridge, Dolores del Rio, Brandy, Selena, Lana Turner, Laurence Fishburne, Mario Moreno "Cantinflas,"
Carol Burnett, Cher, Ricky Nelson, Bruce Lee, Rudolph Valentino, Judy Garland and John Ritter.
Mural Artist: Eloy Torrez
http://www.eloytorrez.com


Cinerama Dome
6360 W Sunset Boulevard, Hollywood, CA - (323) 464-4226
The Movie "Selena", premiered here for the West-Coast in 1997.


Selena Street Art
***NO LONGER THERE***
5400 W. Adams Blvd., Los Angeles, CA. 90016
Art By: Bryan Avila "The Producer BDB"
http://theproducerbdb.com

___New York Locations___
***Just Added***
Selena Wax Figure
Madame Tussauds New York
234 W 42nd St., New York, NY 10036
(866) 841-3505 Hours: 9:00AM - 10:00PM.
Buy Tickets
Unveiled June 23, 2017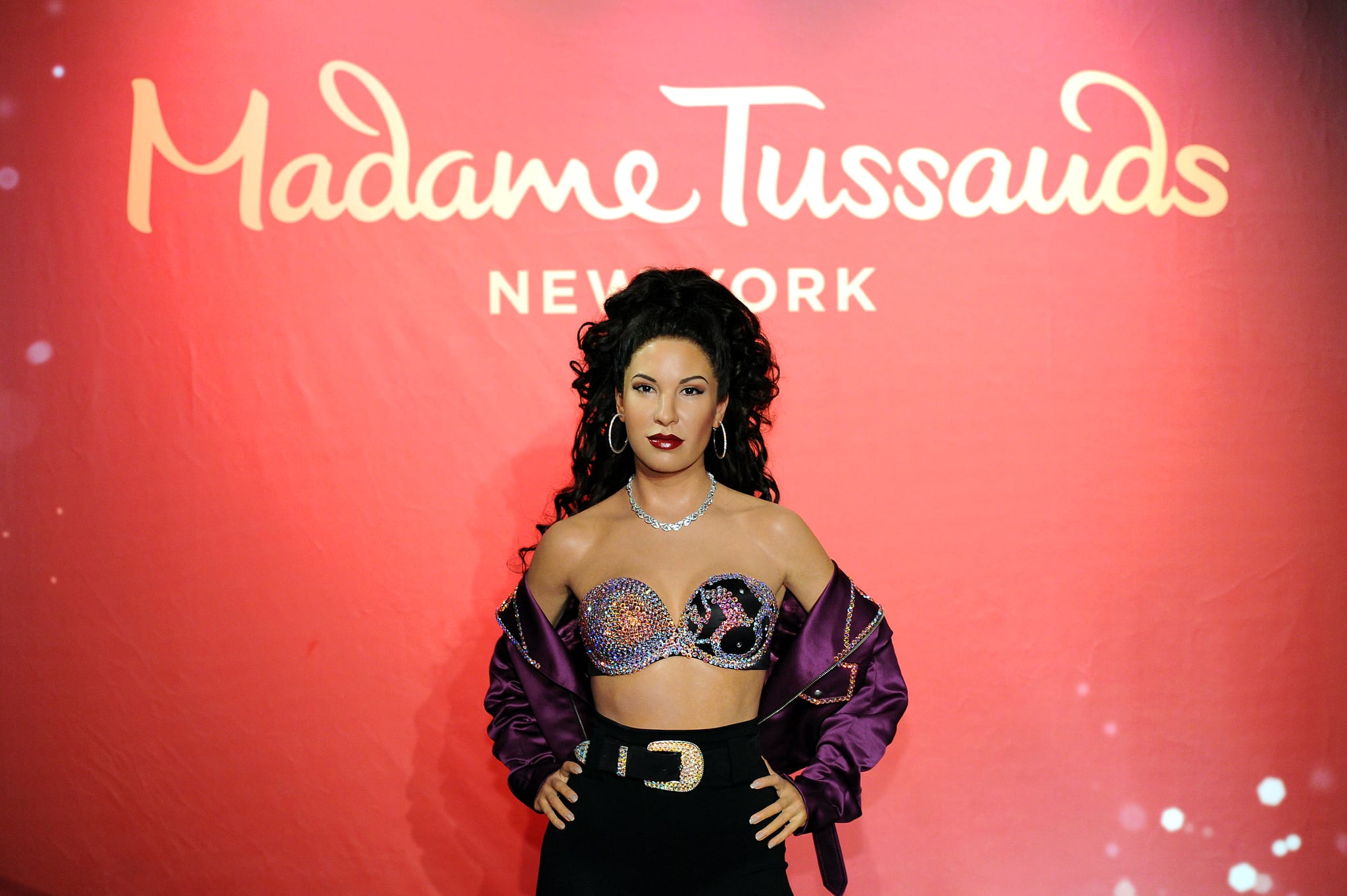 Brooklyn Bridge
Purple lock with an "S" was placed somewhere in the bridge in honor of Selena by her sister Suzette.

___Dallas Locations___
Selena Mural at Property Cousins Office
914 W Commerce St. Dallas, Texas
Muralist/Artist: Ponchaveli - instagram.com/ponchaveli


Selena Mural behind Family Dollar
3939 S. Polk St. Suite 215, Dallas TX. 75224
Mural/Artist: Fidel Pineda - Instagram.com/sopadefide0

___Phoenix Locations___
Selena Mural at El Pacifico Restaurant
3311 N. 16th St. Phoenix, Arizona 85016 - 602-277-5639
Muralist/Artist: Francisco Garcia

___Milwaukee___
**JUST ADDED**
Anything For Selena - Mural
625 S. 5th St. Milwaukee, WI 53204
Muralist/Artist: Mauricio Ramirez
Completed: 7/13/2017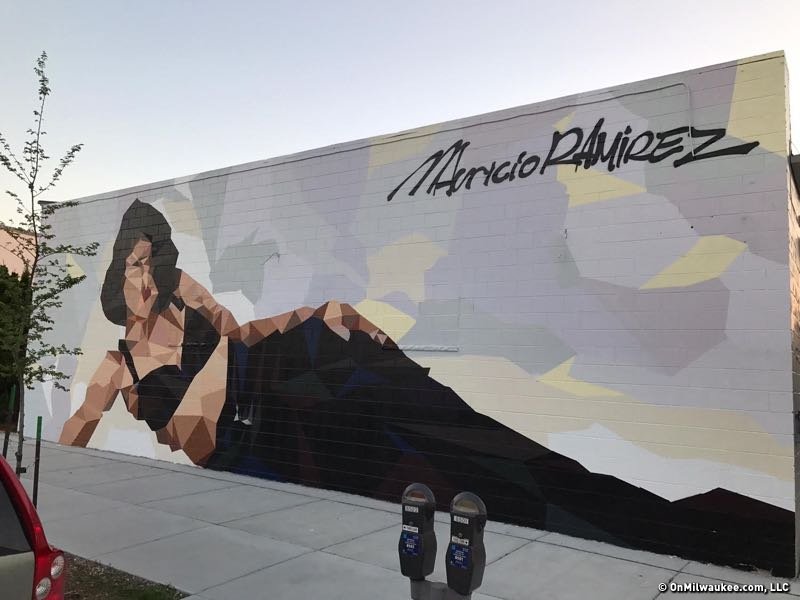 ___Apodaca Nuevo Leon, Mexico___
Museo Grupero/Grupero Museum
Apodaca Nuevo Leon, Mexico
Hours: Monday to Sunday from 8am to 8pm.
Inaugurated March 31, 2011. Selena's statue was sculpted by Cuauhtemoc Zamudio.

Special Thanks To:
Robert Rene Villafuerte
&
Nora Gonzalez
for providing info and their photos
(watermarked)




Did we missed a location?
Do you have a photo we are missing?
Let us know!
email: LoveSelenaOfficial@hotmail.com
LoveSelena.com
Helping to keep Selena's music, memory and legacy alive since 1995!
Experience The Fun & Stay Up To Date; Like and Follow us!
Facebook | Instagram | Twitter | Instagram

Was this page helpful? - Your thoughts


published: 10/8/12